Garlic, Chard and Parmesan Bread
This summer I have an organic urban farm in my back yard. It is the first time in my adult life that I have grown anything edible, beyond a few herbs in flower pots. It is a stretch to say that I am growing any of it because I am part of a pilot project for Backyard Harvest and Stefan, aka the garden ninja, actually does all of the farming for me. I watch, mostly through the lens of my camera, and learn from him, but he shows up twice a week to make sure everything is thriving.
It was Stefan who gave me the idea for this recipe. He described a loaf he buys at the farmer's market that is stuffed full of garlic, chard and Parmesan cheese. Because my garden is just teeming with chard and kale right now I thought it the perfect thing to make.Garlic, Chard and Parmesan Bread:
1 1/2 pound (cantaloupe size) piece of Brioche (page 189), Challah dough (page 180) or  Buttermilk dough (page 207)
3 tablespoons olive oil
6 large leaves,  washed, stems removed, chopped (about 2 cups well packed) – kale or spinach would be tasty too
4 cloves of garlic, finely chopped
salt and pepper to taste
2 cups finely grated Parmesan cheese, loosely packed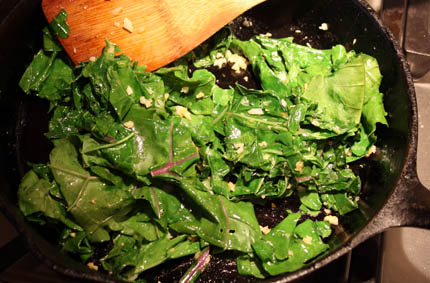 Saute the garlic over medium low heat in the olive oil until it is soft and fragrant, about 2 minutes. Add the chard and cook until wilted, about another 2 minutes. Salt and pepper to taste.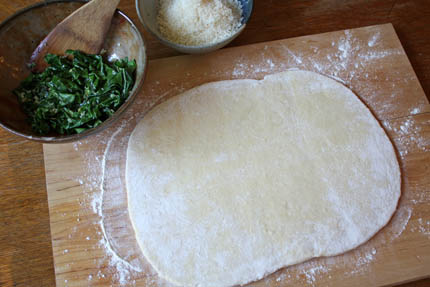 Take a 1 1/2 pound piece of dough from the bucket of Brioche and roll it to a 1/4-inch thick rectangle, using plenty of flour so the dough won't stick to your hands, the Rolling Pin or the work surface.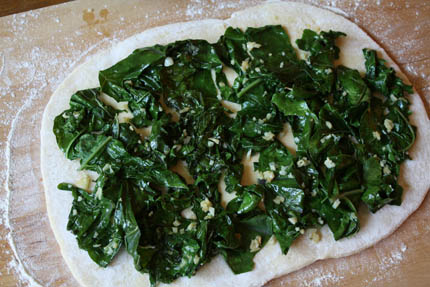 Spread the garlic chard mixture over the surface.
Sprinkle 1 1/2 cups of the Parmesan cheese over the chard and roll the dough up, starting at the short end of the the dough.
Allow it to rest in a well greased non-stick 8 1/2 x 4 1/2-inch Loaf Pan
, loosely covered with plastic wrap for 1 hour.
Preheat the oven to 350 degrees.
Just before baking sprinkle the remaining Parmesan over the top of the loaf.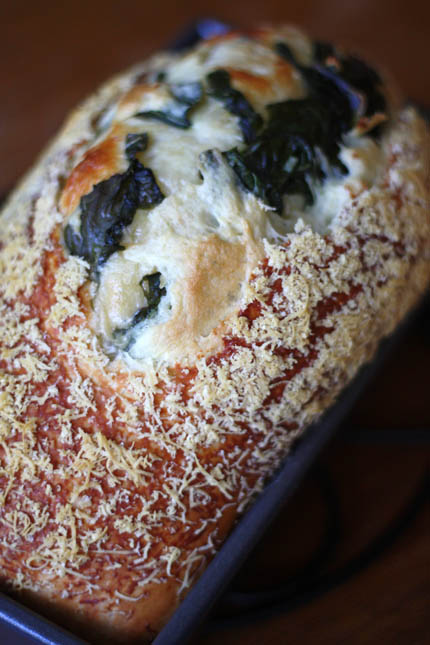 Bake for 45 minutes or until well set and a deep caramel brown color.
---
---