Grilled flatbread, my workhorse summer bread
I've spent a lot of time this summer talking about how easy it is to do loaf breads on the outdoor gas grill, but if truth be told, this is the bread I make every day when it's hot.  Why?  Because it's crazy easy and fast.  I go into the yard and do it in the morning, before the kids go off to day camp– this is the bread they take for sandwiches.  It's very, very simple.
First off, you don't need a baking stone, and that means a very quick pre-heat.  Turn on your gas grill to high heat (that's right, high), close the lid, and wait about five minutes.  Meanwhile, take out your stored dough, the white-flour version or any other kind in the book, even enriched (though you need to turn down the heat for enriched).
Meanwhile, use a rolling pin and a sprinkle of flour to roll out a grapefruit-sized piece of dough to about 1/8-inch thickness, right on a floured pizza peel.
By now the grill should be hot, so slide the flatbread right onto the grates.  Close the top, and wait about two minutes (depends on the intensity of the grill-heat).  Open the lid; the bread is ready to turn (with a spatula) when it looks puffy, but the underside isn't starting to burn (this one has some seeds, see below for details on that):
It's OK if there's a little char.  If the grill's closed and you smell something burning, it is!
After turning, about two more minutes should do it, again with the lid closed.  Grilled flatbreads generally don't puff like the pita that we do inside on a hot stone, so you need to slit them to make filled sandwiches.
A variation:  using a pastry brush, paint the surface of the dough with water before sliding onto the grill.  Sprinkle with alternating bands of white and black sesame seeds.  My youngest calls this "bumblebee bread:"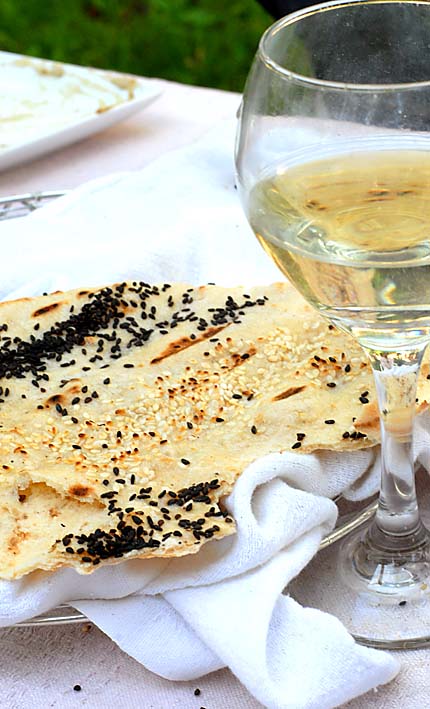 Everything tastes better outside!
Note: BreadIn5.com is reader supported. When you buy through links on the site, BreadIn5 LLC earns commissions.
---
---