Mother's Day Danish Braid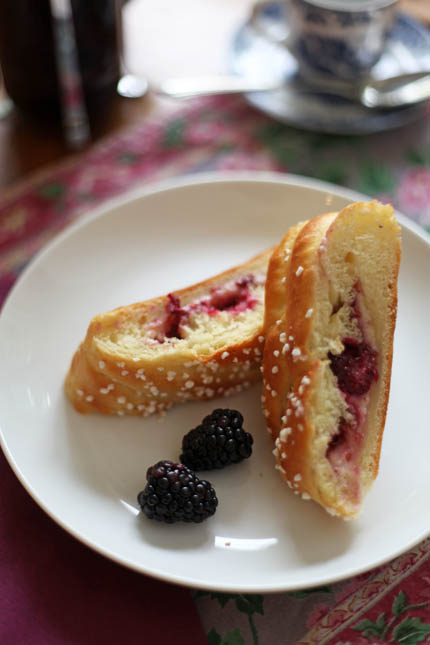 This weekend I over did it. Not with buckets of dough, but in my garden. I am determined to recreate the organic urban farm I had last year, but this time I am doing it without the aid of a professional farmer. Just me, a bunch of compost/manure and my dad, who happens to be a long time green thumb. I spent 12 hours prepping the beds and getting in some seeds. At the end of the day my right hand (the hand I write with) was so swollen I couldn't move my fingers, tendonitis. The Dr. says not to use it for 2 weeks ~ 2 WEEKS! (I am typing this with one hand.) In order to do this post I enlisted my friend Jen to help make a Danish Braid. She is a great sport and it turns out quite skilled at modeling/braiding/baking.
The braid is made with the Brioche from ABin5, but you can do this same thing with any of the enriched doughs from that book or HBin5. We've done this same technique with savory fillings, so let your imagination go wild and let us know what you come up with.
Happy Mother's Day!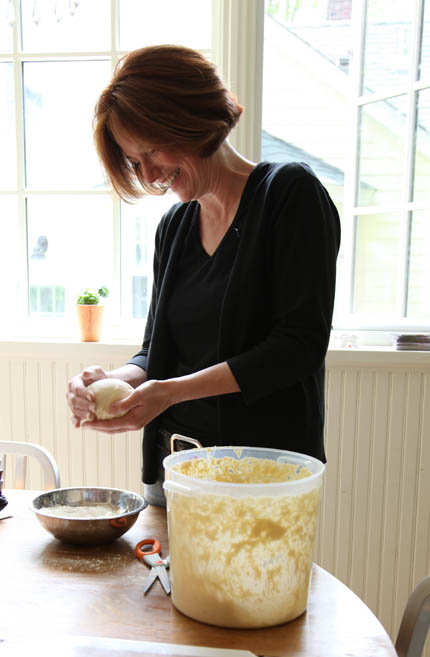 Braided Raspberry Almond Cream Pastry (page 231, ABin5). I replaced the almond cream with a slightly sweetened cream cheese filling (1/2 cup softened cream cheese, 3 tablespoons sugar, 1 teaspoon vanilla), raspberry preserves and fresh blackberries.
The recipe in the book calls for 1 1/2 pounds of brioche dough, but we made a slightly smaller one (1-pound). Make them as small or large as you like, but just be sure to increase/decrease the resting and baking times slightly.
egg wash for brushing on top (1 egg + 1 tablespoon water)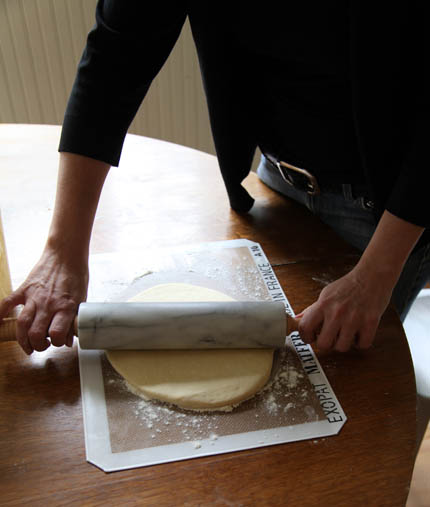 Jen rolled the dough out on a Nonstick Silicone Baking Mat
, using plenty of flour, until it was about a 1/4-inch thick.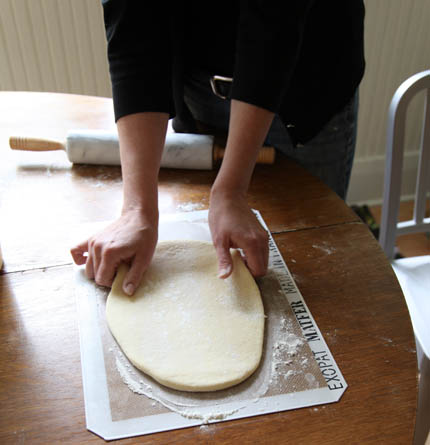 gently stretch out the corners to create a rectangle.
She transferred it to a sheet of parchment to finish up the braid. If you leave it on the silpat you must be extremely careful not to cut through the mat in the upcoming step.
She then marked a 2-inch section in the center of the dough for the filling.
Spread your filling evenly along that center area. You want to use enough filling to get some in every bite, but not so much that it will leak out when baking. This amount will be determined by what you are using.
Spoon on the jam.
We used blackberries. I've done this same braid with peaches in the summer and caramelized apples in the fall.
Using a Pastry Wheel
or Pizza Wheel
cut 1/4-inch strips on either side of the filling.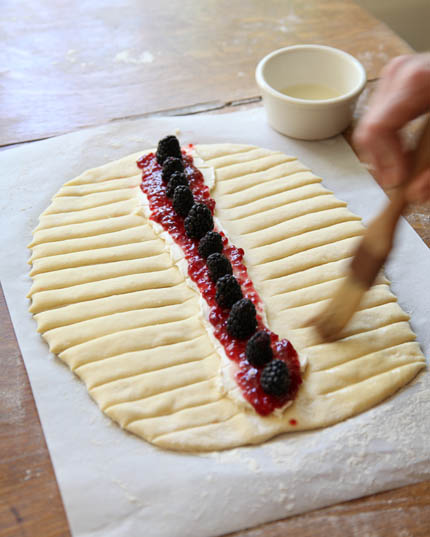 Lightly egg wash the strips. This will act as a glue to keep the braid together.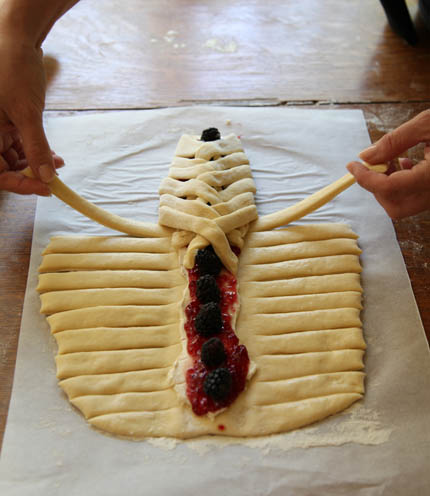 Stretch the strips, on both sides of the filling…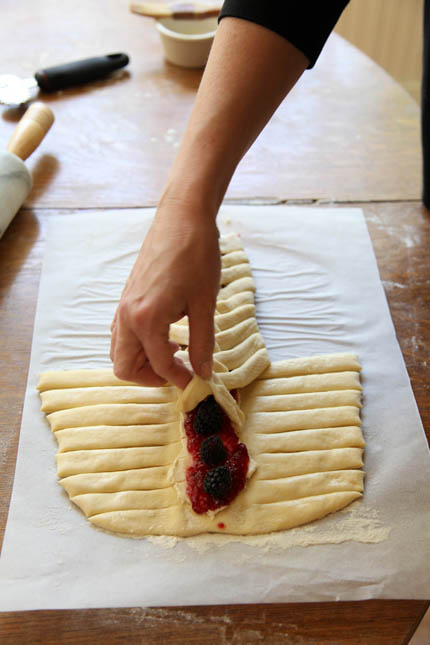 then cross them over the filling and pinch the strips together. Make sure that there is quite a bit of excess dough beyond the point where you pinch them together. If you pinch right at the ends it will bust open when baking.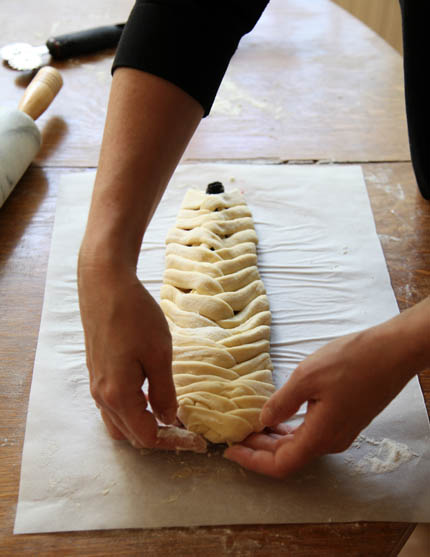 When you get to the end tuck the loose strips under the braid.
Slide the braid onto a Cookie sheet and very loosely cover the braid with plastic and let sit for about 40 minutes.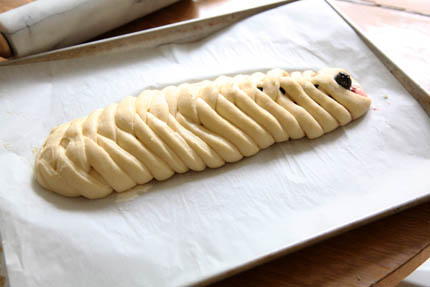 Preheat the oven to 375 degrees.
Lightly egg wash the braid and sprinkle it with sugar. We used Pearl Sugar, which doesn't melt and caramelize. Bake in the middle of the oven for about 20 minutes (adjust the baking time for larger or smaller braids).
Allow to rest for about 15 minutes before serving.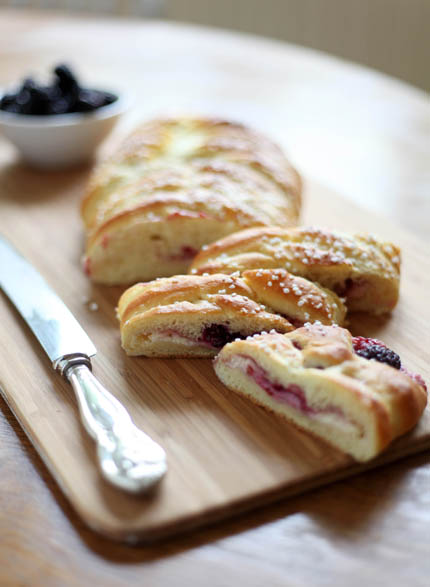 Thanks Jen, sorry you had to leave before it came out of the oven. Your braid was not only gorgeous, but it tasted fantastic and the boys devoured it after school. I will get them to bake me another one for Mother's day.
Other great Mother's Day breakfast ideas:
---
---