Thanksgiving Cranberry Corn Bread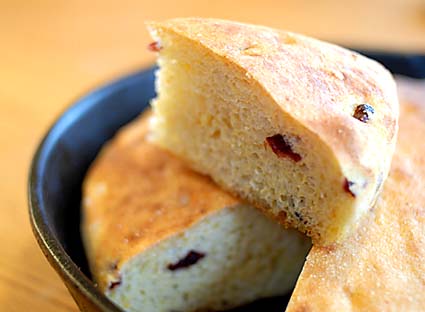 It will soon be American Thanksgiving, so I thought I'd re-post our Thanksgiving Cranberry Corn bread.  It's based on the Portuguese Broa style (page 151 in the book)—it's the regular Master Recipe, but with 1 1/2 cups of all-purpose flour taken out and replaced with an equal amount of cornmeal.
Here's what you need to do.  Take about 2 pounds of the Broa dough mentioned above and shape it into a ball; then flatten it with your hands and a rolling pin until it's about 1/2-inch thick.  Sprinkle the dough with 1/3 of a cup of dried cranberries (or 1/2 cup fresh):
Now break out your microzester, and use it to scrape the zest from half an orange…
… now sprinkle that over the cranberries, and then sprinkle a couple of tablespoons of granulated sugar over that…
Now roll it up like a jelly roll… If it sticks to the board as you're rolling, nudge it off with a dough scraper.
Tuck the ends under to form a ball, flatten it on a work surface, and then, using your hands and a rolling pin, make a disk the right size for a 12-inch cast iron pan.  It should be about an inch or inch and a half thick.   If you don't have a cast-iron pan, see below.**  This instruction applies to this flattened thanksgiving bread only; you can make loaf breads this way too (freeform or in a pan).
Grease the pan well with butter, lard, bacon grease, or oil (I used olive oil today), and place the dough round in it.
Allow to rest for at least 1 hour and 20 minutes.  You'll get a more open hole structure if you wait two hours.
Put a broiler tray in the oven to dump water to make steam.  20 minutes before baking time, preheat the oven to 425 degrees F if you keep a baking stone in the oven.  If you don' t use a stone, a 5-minute pre-heat is adequate (the stone isn't required since you'll bake in the cast-iron).
Just before baking, heat the cast-iron pan over medium heat for 1 or 2 minutes to jump-start the baking process and promote caramelization of the bottom crust.  Don't overdo it–no more than 2 minutes.  It will start to sizzle.
Place the pan on a rack near the center of the oven.  Pour 1 cup of water into the broiler tray and quickly close the oven door.  Depending on the thickness of your loaf and the weight of the pan, baking time will be about 25 minutes.
Carefully turn the hot loaf out of the pan onto a serving plate or cooling rack, or just cut wedges directly out of the pan once it cools.  Be careful with the hot cast-iron pan!
You should get a result just like the cover photo.  Happy Thanksgiving!  Other Thanksgiving recipes:
Stuffing from homemade bread:  https://artisanbreadinfive.com/?p=1228
Thanksgiving buns:  https://artisanbreadinfive.com/?p=443
Thanksgiving Pumpkin Pie Brioche: https://artisanbreadinfive.com/?p=1209
Roasting Your Own Pumpkins: https://artisanbreadinfive.com/?p=50
—–
** This bread can be done as a simple free-form loaf right on a baking stone, cookie sheet, or silicone mat (about the same baking time, or in a loaf pan (longer baking time needed).  Either way, it's done at 425 degrees.
---
---