Soft Thanksgiving Pull Apart Buns!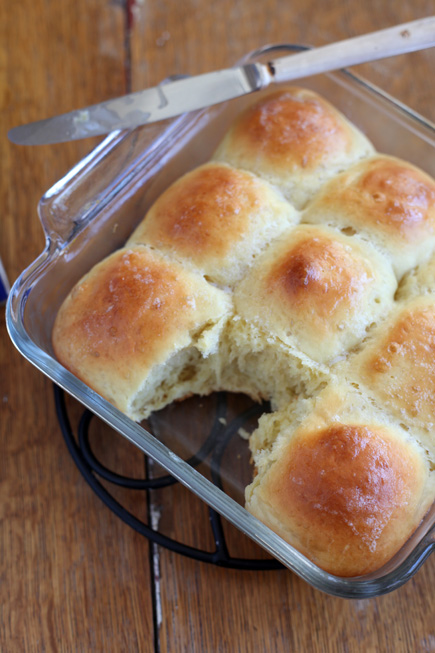 Happy Thanksgiving! We wish you all a wonderful holiday and lots of fresh bread at your table to share with family and friends. I'm making these soft pull apart buns for our dinner tonight. They are perfect for sopping up gravy and making little turkey sandwiches.  You can do this with any of our doughs, but I used the brioche from ABin5 to get a luxurious texture and the soft crust that so many people associate with this style bun.
1 1/2 – 2 pounds of brioche dough page 189 ABin5. (this will be determined by how large you want your buns. As you may notice I made two batches for this photo shoot. One was a pan of twelve 2-ounce buns, the other nine 3-ounce buns. Instructions are the same.)
egg wash for painting top of buns (one egg mixed with a tablespoon water)
butter for baking dish and spreading over the top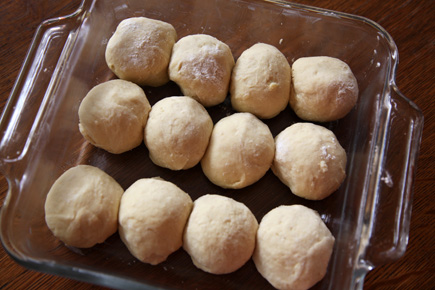 Prepare a 9-inch baking dish (larger for more than 12) by generously coating with butter.
Take a 1 1/2 to 2 pound piece of dough out of your bucket and divide it into 9-12 equal pieces. They should be about the size of small plums or golf balls.
Place them into the prepared pan and loosely cover with plastic wrap.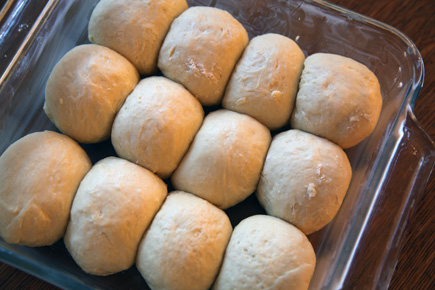 Allow the buns to rest about 40-60 minutes. I let mine go about 60 so I would have a very light and airy bun. If your house is on the cool side you may need a bit longer.
Preheat your oven to 350 F degrees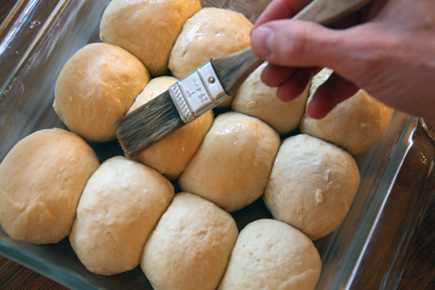 Paint the tops of the buns lightly with egg wash using a pastry brush. Bake for 25-30 minutes, depending on the size. They should be golden brown.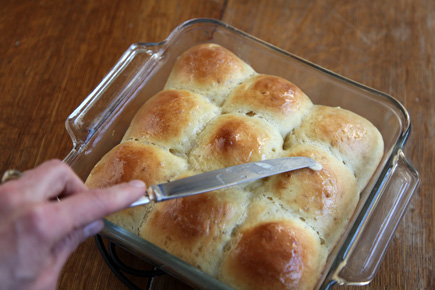 Immediately brush the top with butter to keep the crust soft and because it tastes great!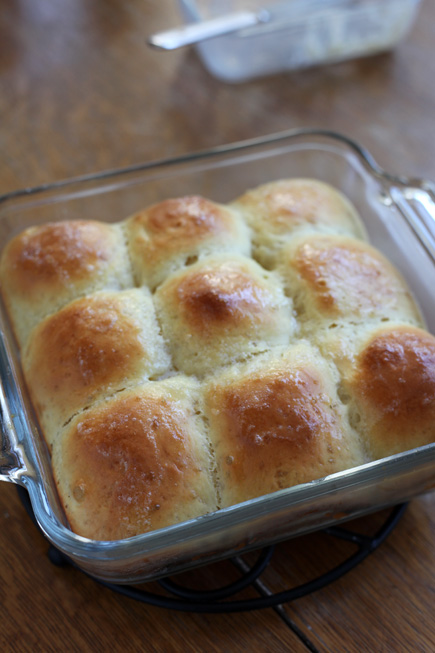 Allow to cool slightly and enjoy.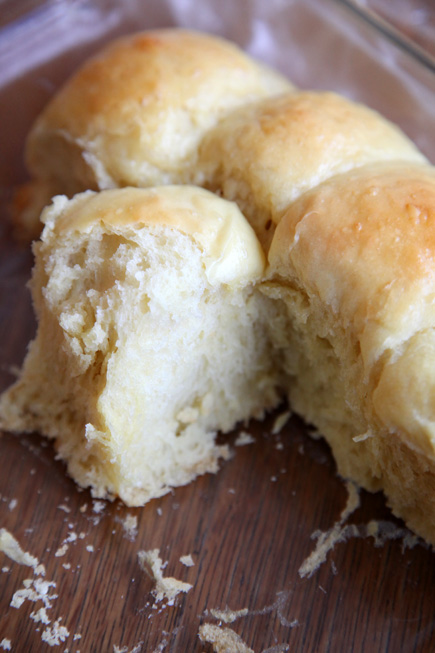 Make enough for left over Turkey.
For a brioche bun that is just a little fancier try these Mini Brioche a Tete.
Congratulations to Judy from judysbakeryandtestkitchen, she is the winner of the baker's package…
To get someone started with bread making, the baker's package is a wonderful gift. You can also recreate it yourself with these basic items:
Artisan Bread in Five Minutes a Day – for those who want to bake traditional European style breads.
Healthy Bread in Five Minutes a Day – bakers who want more whole grains and/or gluten-free options.
6-Quart Bucket – we like the round one for mixing, but the square one often fits better in the fridge.
Danish dough Mixer
– This is our favorite tool. It offers less resistance to the dough, which makes mixing even easier.
Pizza Peel
– easiest way to get loaves in the oven
Baking Stone
– creates the best crust (see post on which ones we recommend)
Oven Thermometer
– very few ovens run true to temp and it is crucial to know if it does to get a great loaf.
Yeast – we like Red Star so much they put our picture on the package. 😉
Vital Wheat Gluten – for those baking from HBin5
---
---