How to Make a 2-pound Loaf
In Artisan Bread in Five Minutes a Day and Healthy Bread in Five Minutes a Day we suggest baking a 1-pound loaf and give detailed instructions for making this smallish bread. It seems like a nice size loaf for a family of 4 to eat in a day. On some occasions you may want to bake a larger loaf and it requires a few adjustments to our recipe. Here are step by step instructions for baking a 2-pound free form loaf.
2 pounds pre-made, refrigerated dough (the timing will be different for fresh dough that has not yet been chilled)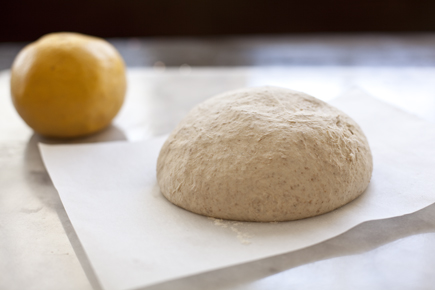 Form the dough into a ball (here is a video on how to form wet dough), then place ball of dough on piece of parchment or a cornmeal covered Pizza Peel.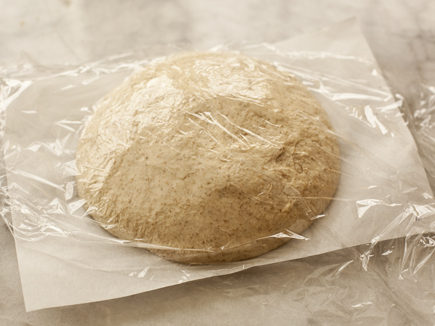 loosely cover the ball with plastic wrap. For the larger loaf we have to let it rest longer, so we don't want it to form a tight skin or it won't rise as well. Allow to rest at room temperature 65-70°F for 90 minutes (2 hours if using doughs made mostly with whole grains).
Preheat the oven with a Baking Stone set on the middle rack, to 450°F as read on an Oven Thermometer. Have a roasting pan on the bottom rack.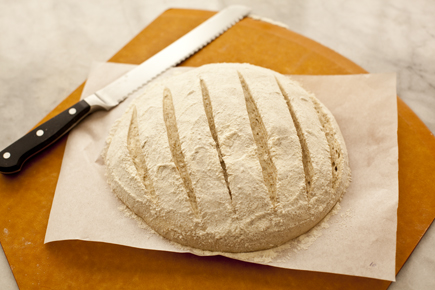 The dough will have risen slightly and probably spread sideways. It should no longer feel chilled or tight and will shake like set jell-o when you shimmy the loaf on the parchment.
Slash the loaf with 1/2-inch deep cuts.
Slide the loaf onto the baking stone. Add one cup of water to the roasting pan and bake the bread for 45-50 minutes.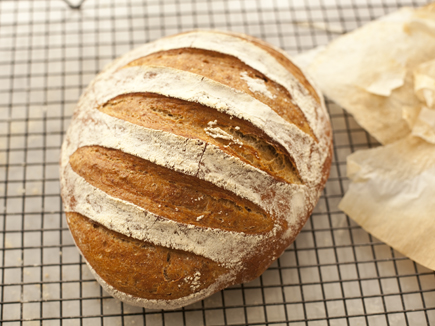 Remove the golden brown loaf, take off the parchment and let it rest on a cooling rack for about an hour. The loaf may still be gummy on the inside if you cut into it before the hour is up.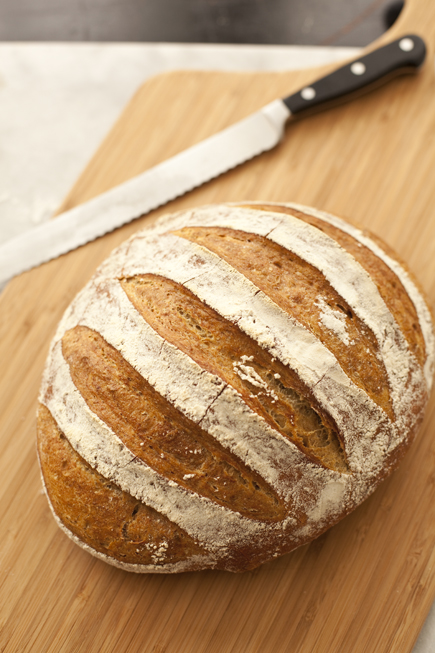 Cut with a very sharp Bread Knife.
---
---