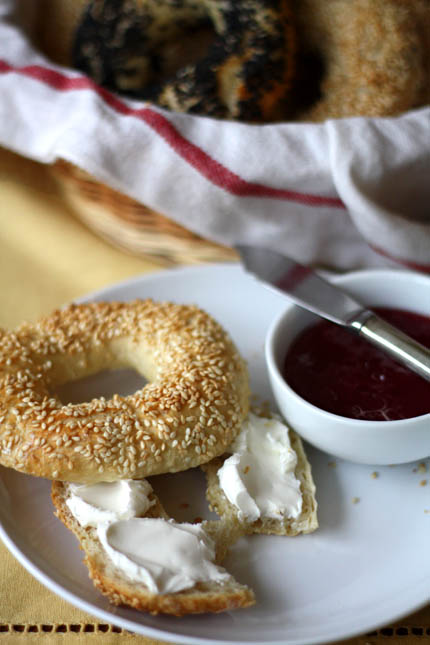 Bagels are crisp on the outside, chewy on the inside and so easy to make, and are a staple in all my books, the basic recipe's in The New Artisan Bread in Five Minutes a Day, but more here…
Preheat the oven to 450° with a pizza stone on the top rack. (Yes, this is different than the book.)
Also have ready a cookie sheet lined with a clean kitchen towel that is dusted with flour.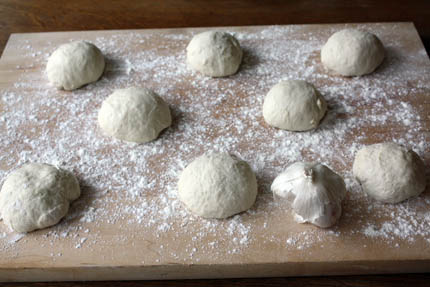 Form several 3 ounce balls of dough, as you can see they are about the size of a head of garlic. I used the Master recipe here, but you can also use the Bagel recipe, Montreal Bagels, Whole Wheat or any other non-enriched dough from the book for this. Cover the balls loosely with plastic wrap and allow to rest for about 20 minutes or until they no longer feel chilled.
While they are resting bring to a boil:
8 quarts of water
1/4 cup sugar
1 teaspoon baking soda
Have ready:
Sesame seeds, poppy seeds or any other toppings you may want for your bagels.  There were strong opinions expressed on Twitter about the toppings for bagels, let us know what your favorites are.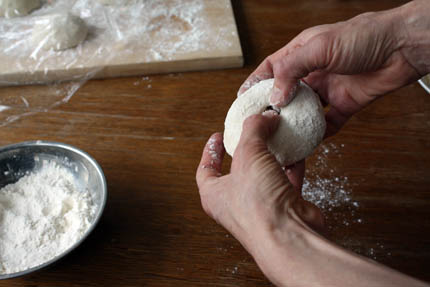 Once they have rested, dust the ball in flour and poke a hole in the center using your thumbs.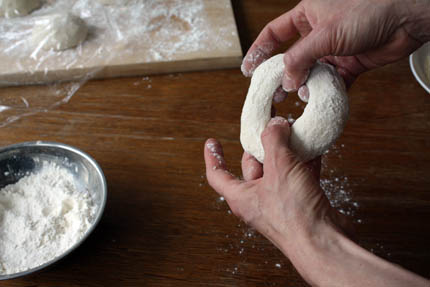 Continue to stretch the hole and add more flour if the cut part of the dough gets sticky.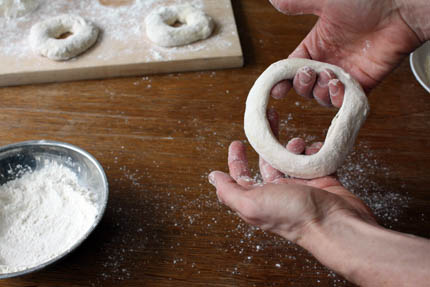 You want to stretch the hole quite a bit,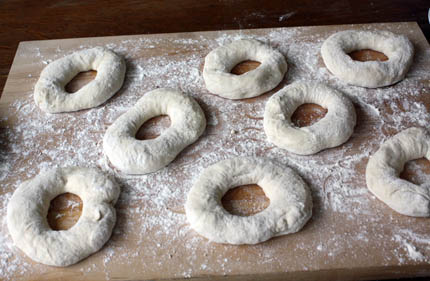 because it will shrink back like you see above.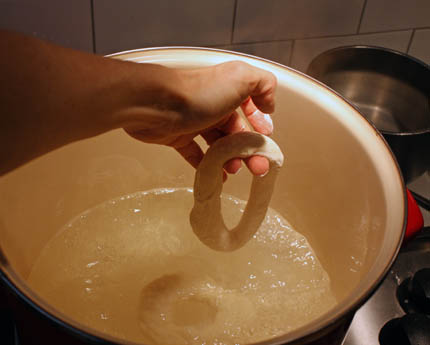 Place the bagels in the water, get as many as will fit without crowding. Boil for 1 minute, then flip over and boil for another 30 seconds.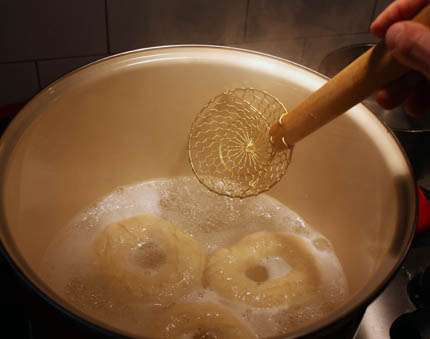 Scoop out the bagels with a slotted spoon and allow the water to drain off.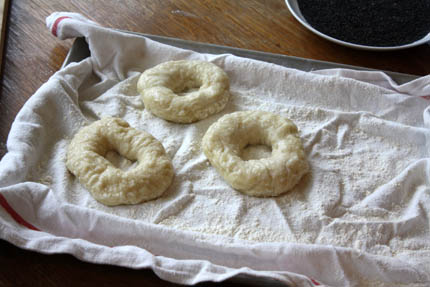 Place on the towel covered cookie sheet. Continue the last 3 steps with the rest of the bagels. If you are doing more than 2 boiling batches, you will need to get those first two batches in the oven and then continue with the rest.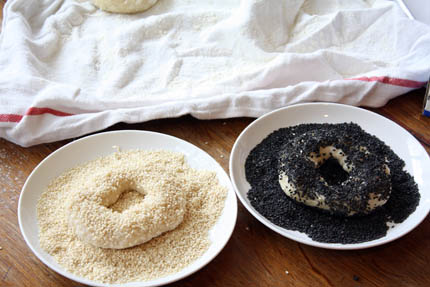 Carefully lift the boiled bagels and dip them on both sides with your topping. If you are using something that may burn easily like onions or garlic then only coat the top of the bagel and dust the peel with flour. If you are using seeds then you don't need the additional flour on your peel.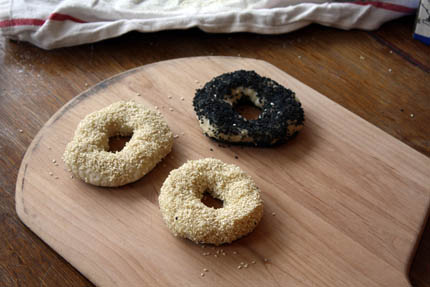 If you are using seeds then you don't need the additional flour on your peel.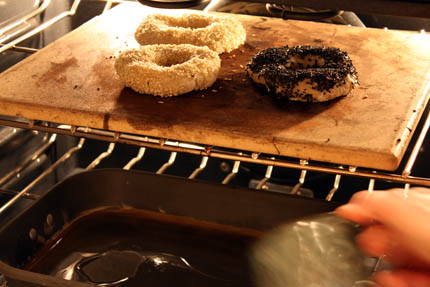 Slide the bagels into the preheated oven, add the water to a broiler tray to create steam. bake for about 25-30 minutes, until golden brown and crisp.
Serve them slightly warm with anything you like!  A bagel cutter can be a helpful and safer tool for cutting bagels than using a knife.
Note: BreadIn5.com is reader supported. When you buy through links on the site, BreadIn5 LLC earns commissions.
---
---