Big News: Gluten-Free Artisan Bread in Five Minutes a Day is available for pre-order–It'll be in stores October 21, 2014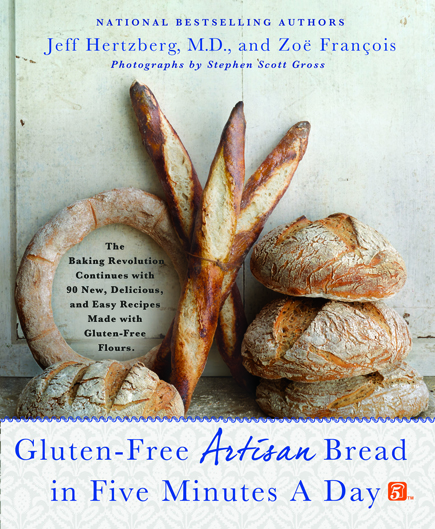 Jeff and I have been busy with another project, maybe our biggest and most exciting yet. We are thrilled to finally be able to introduce you to Gluten-Free Artisan Bread in Five Minutes a Day: The Baking Revolution Continues with 90 New, Delicious and Easy Recipes Made with Gluten-Free Flours. We've been adding gluten-free recipes to our wheat packed books for years, but we realized that folks who can't eat wheat probably would prefer a book dedicated to gluten-free breads they can enjoy. Along the way we also decided to tweak our GF baking method to make it even easier and faster to make. Not only are they easy and fast, but they taste fantastic, and they're made with easy-to-find supermarket ingredients. We're really excited to have you try them, but you'll have to give us just a wee bit more time until the print date. Amazon and other retailers have the book available for pre-orders and it will ship on October 22nd. It will be worth the wait! 🙂
Some of what you'll find in Gluten-Free Artisan Bread in Five Minutes a Day:
About 90 G-F bread recipes – including all of our most popular wheat breads made with gluten-free flours and grains. (Master recipe, 100% whole grain, corn bread, rolls, pretzels, bialys, challah, chocolate bread, braided Danish, brioche and many more.)
The ingredients are easily found in most grocery stores. We tested our recipes with Bob's Red Mill products since they are so widely available.
We give alternative flours whenever possible, because we know that not everyone tolerates certain flours.
Most of our recipes are egg free or can be made with egg substitutes.
Most of the recipes are vegan (no dairy, no egg)
There are 40 gorgeous color pictures and 100 black and white how-to shots. We have to give a huge thank you to Stephen Scott Gross who took the photos and Sarah Kieffer who was our photo stylist. I can't wait for you to see how beautiful this book is. Pre-order here: Gluten-Free Artisan Bread in Five Minutes a Day:
Finally, the winner of our Baking Steel and Pizza Book giveaway is Sarah Heat. Thank you all for leaving such tasty comments about your favorite pizzas. 
---
---