Herb Crock-Pot Dinner Rolls – Easy Thanksgiving Baking
This week is Thanksgiving and we have to make the most of our oven space. Scheduling what will go in and out of the oven is just shy of a NASA level endeavor. By the time the pies come out, the Turkey must go in and then what to do about the rolls? There is an easy answer. What was originally a lark,
bread in the slow-cooker
has become my go-to holiday baking method. As you orchestrate the yams and dressing in the oven, your rolls can be baking on the counter. I made a savory herb dough for our Thanksgiving meal, but really you can bake just about any of our breads in this method.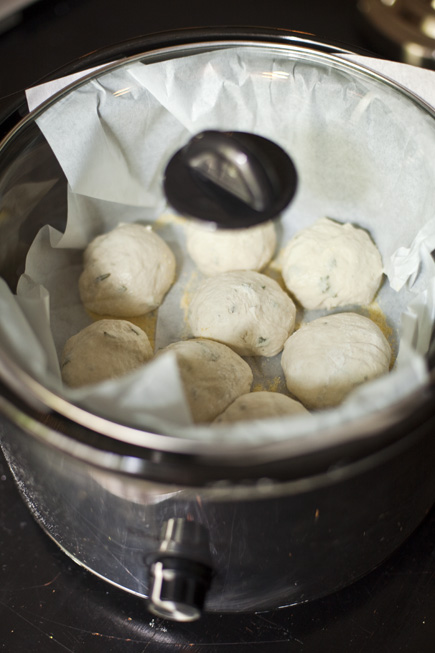 Herb Dough:
The easiest, and cleanest way to chop fresh herbs is to put them into a small container and
snip them with a pair of Kitchen Shears. It eliminates having to clean a cutting board and keeps them from scooting onto the floor as you chop.
Mix them into your favorite breadin5 recipe.
Once the dough has risen, you can use it right away or refrigerate it and use it over the next couple of weeks.
When you are ready to "bake" the buns in your slow cooker, line the bottom with parchment and sprinkle it generously with cornmeal, or brush with oil or butter. (Check your machine's instructions to make sure it recommends baking in this way.)
Divide 1 pound of dough into 8 equal pieces and form them into balls. Place them into the prepared crock-pot.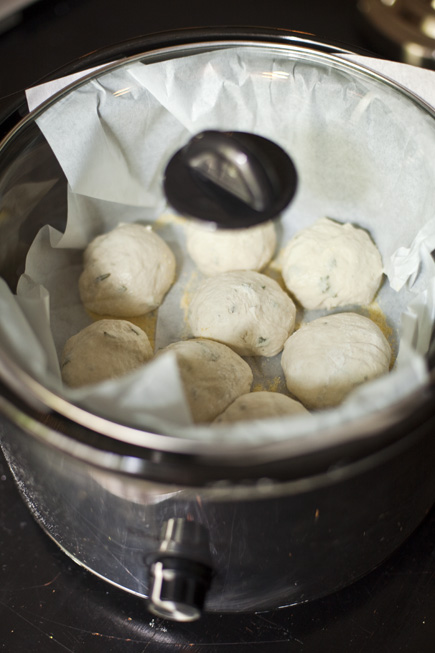 Set the slow cooker to high and bake for about 1 hour. (THEY MAY TAKE MORE OR LESS TIME DEPENDING ON YOUR MACHINE.)
Once the buns have set, check by gently poking the top, they should no longer feel like wet dough, but will not be crusty.
If you want a crustier bun, with nice color, you can brush them with olive oil or butter and set them on a sheet pan under a broiler until the color you desire. Be sure to keep a close eye on them so they don't burn.
Other slow cooker breads to try:
Cinnamon Rolls in the Crock Pot
---
---