White Bread Master Recipe from Holiday and Celebration Bread in Five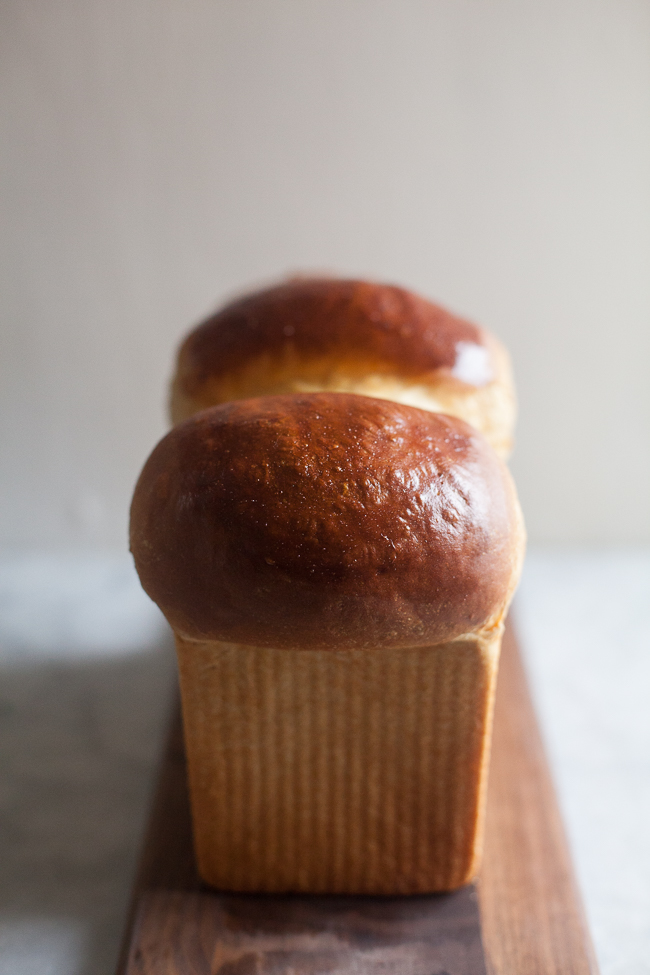 There are about one hundred recipes in all of our books, but we always start with a Master Recipe. It is our opportunity in each book to dive a little deeper into our super fast and simple method of bread baking. In Holiday and Celebration Bread in Five Minutes a Day
we started with a simple and nostalgic white bread master recipe. It can be the perfect school sandwich bread or the base of some pretty fancy holiday breads. If white bread is not your cup of tea (or loaf of bread) then try one of our enriched or whole grain breads from the new book. With dozens of doughs to choose from in the book, you will find many that suit your holiday needs.
If you are familiar with our dough and method, you may notice that the doughs in this new book are a bit drier than our previous ones. This is on purpose, since some of the more intricate loaves in this book would be more difficult to shape with a very wet dough. Since many of the doughs in the book are enriched (with butter, eggs, milk, etc) they only store in the refrigerator for about 5 days (you can freeze what is left). Because the dough is drier, we find it much easier to mix with a stand mixer, as opposed to a wooden spoon or even a Danish Dough Whisk. You can use those tools, but you'll need to put some muscle into it, so the dough comes out nice and smooth and consistent.
This post is meant to provide a guide to baking the bread, but the book has tons more details and lots of tips and techniques for those who are just starting out with bread baking or our method in particular.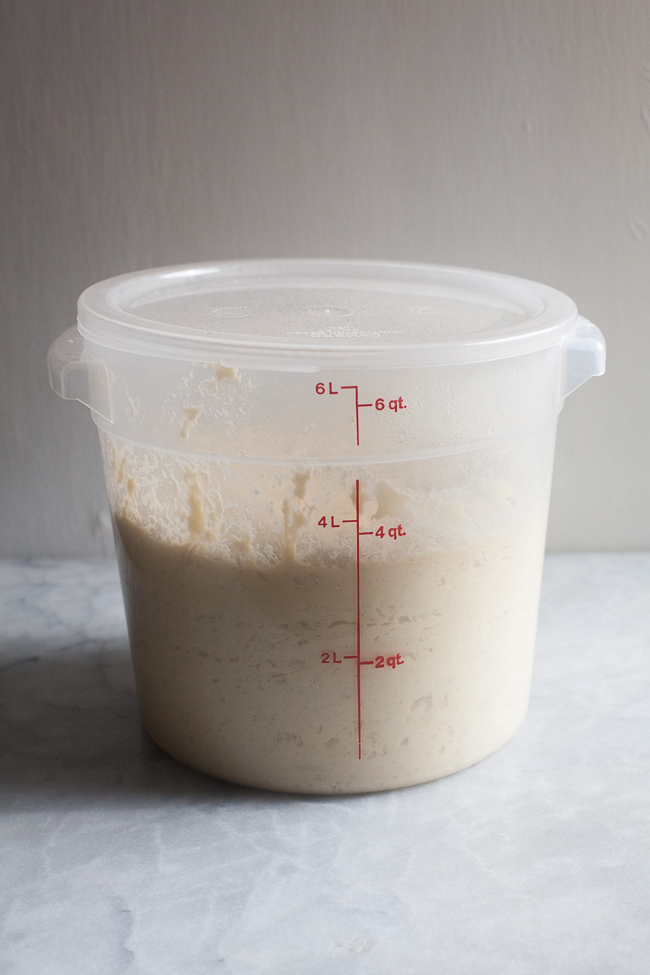 White Bread Master Recipe
from Holiday and Celebration Bread in Five Minutes a Day
We give all of the recipes in cup and weight measures. Weighing the ingredients is always preferred, because it is most accurate, consistent and is the easiest.
3 cups (680g) Lukewarm water (about 100°F) – hotter and it may kill the yeast. Cooler water may take longer to activate the yeast, which can slow down the rise significantly, especially in some of the doughs that use eggs.
1 tablespoon (10g) Granulated Yeast (any type will do, active, rapid rise, quick, bread machine…)
1 tablespoon (17g) kosher salt (if you use table salt, you need to decrease the amount)
1/3 cup (85g) sugar (you can use honey or other sweetener) if you want a sweeter bread or one with no sugar, there are lots of those in the book too, this is midely sweet.
1/4 cup (58g) oil (this adds a bit of tenderness to the dough, but is only lightly enriched. Many of the doughs in the book use butter, eggs and dairy for a richer and decadent taste and feel)
7 1/2 cups (1065g) all-purpose flour If you don't have a scale you will want to use the Scoop and Sweep method of measuring in your cups.
Egg wash for brushing the top of the loaf
To mix the dough:
Mix the yeast, salt, sugar and oil with the water in a 5-quart stand mixer with the paddle attachment (or in a lidded (not airtight) food container with a wooden spoon or danish dough whisk).
Mix in the flour. We found the best results with the stand mixer, but if that is not available to you, be sure you get all of the ingredients very well incorporated and get right to the bottom of the bucket.
Cover (not airtight), and allow to sit at room temperature for about two hours.
This dough can be used as soon as it has risen for the two hours.  The dough can be stored in the refrigerator for up to 7 days. After that you can freeze the dough.
Note for Egg Enriched doughs in the book: This dough doesn't have eggs, but many of them do, so use room temperature eggs or it can slow down the rise of your dough significantly. 
To bake the loaf:
Here we baked a super tall loaf in a pullman pan (without the top).
There are so many things you can bake with this dough in our new book, like this fanciful Holiday Star Bread, but it also makes an excellent sandwich loaf. This one is made with 3 pounds of dough that is divided into three sections. You can also bake it as a standard two pound loaf with a smooth top.
Start by weighing a 3-pound piece of dough (extra large cantaloupe-size) on a Scale. Divide the dough into three equal pieces and shape them into balls.
Place the three balls next to each other in a well greased non-stick Pullman Loaf Pan (9 x 4-Inch)
(or 10×5 regular
), covered loosely with plastic wrap for 2 hours (or just 60 minutes if you are using fresh, unrefrigerated dough).
Preheat the oven to 350°F.
Brush the top of the dough with Egg wash (we provide many options depending on the darkness you like on your bread. Egg white is the lightest, but shiny, yolk is the darkest and the whole egg is right in the middle. Just mix any of them with a teaspoon of water and brush on the loaf.
Bake for about 60 minutes, remove from the pan and bake for an additional 10-15 minutes. This timing may vary slightly if you change up the kind of dough or the shape of the pan.
Allow the loaf to cool on a rack until room temperature. Cutting into warm bread may result in a gummy interior.
Enjoy!!
---
---