Brioche Danish With Goat Cheese and Pistachios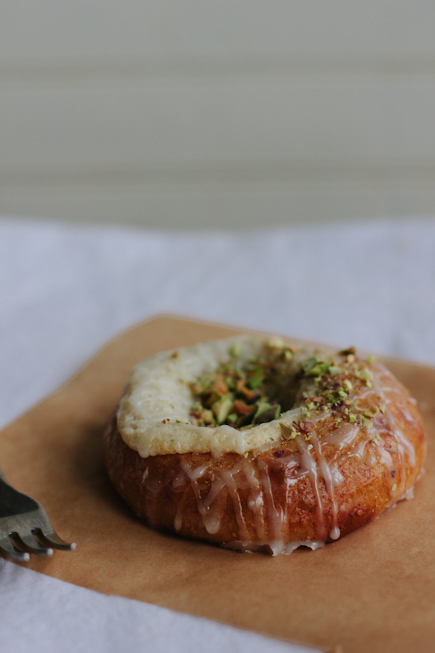 If you have whole wheat brioche dough or other enriched dough (see below) in the fridge; and you want something sweet that isn't a lot of work, this is the recipe for you. See below for links to other enriched dough recipes here on the website that also work beautifully, but this one gives some whole grains. You'll also need almond paste, goat cheese, and pistachios. If you're not a goat cheese fan, swap in cream cheese, lemon curd, or orange curd.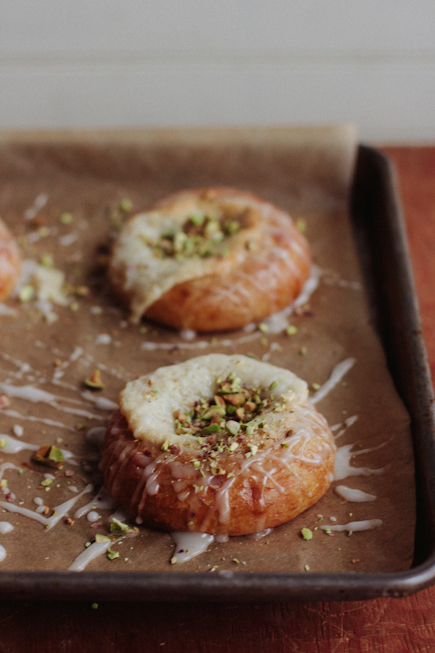 Brioche Danish with Goat Cheese and Pistachios
1 pound whole wheat brioche from Healthy Bread in Five Minutes A Day –The Challah recipe from Artisan Bread in Five (page 296), Healthy Bread in Five (page 258), or Artisan Pizza and Flatbread in Five (page 251) can also be used. So can the white brioche recipe.
Preheat the oven to 350. Divide the dough into 8 equal pieces. Shape each piece into a small ball, and place on baking sheets lined with parchment paper or a silicone mat (4 to 6 on each sheet, any more and they will bake too close together). Let rise, loosely covered, for 40 minutes. Use the back of a measuring cup or a small drinking glass to press a small circle into each ball. Fill each circle with the almond-goat cheese filling (recipe follows) and then use a pastry brush to apply egg wash to each Danish (recipe follows) avoiding the filling. Bake until light golden brown, 22-25 minutes. Remove from the oven and allow to cool slightly. Drizzle each Danish with icing (recipe follows) and then sprinkle with chopped pistachios.
Note: the filling does spill out a bit, but ends up covering a lot of the bread, and makes a lovely pocket for the pistachios to fit in. You could cut back on the filling if you want your danish to look a little 'neater', but I didn't mind the leaking.
Almond-Goat Cheese Filling
7 ounces almond paste
1/2 cup powdered sugar
5 ounces goat cheese, soft [cream cheese can replace all or some of the goat cheese, if desired. Lemon curd also works (see recipe)
1/2 teaspoon vanilla
pinch of salt
In a stand mixer, mix the almond paste, goat cheese, powdered sugar and vanilla until smooth.
Egg Wash
Whisk 1 egg, 1 tablespoon water, and a pinch of salt together.
Icing
1 cup powdered sugar
1/2 teaspoon vanilla
3-4 tablespoons whole milk
1/2 cup pistachios, chopped
Put powdered sugar in a bowl. Starting with 1 tablespoon at a time, mix in milk until icing is desired consistency. Add vanilla and combine.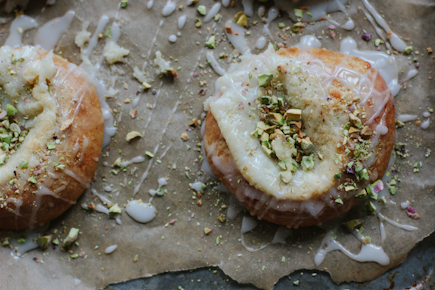 Note: BreadIn5.com is reader supported. When you buy through links on the site, BreadIn5 LLC earns commissions.
---
---