Blueberry Lemon Curd Ring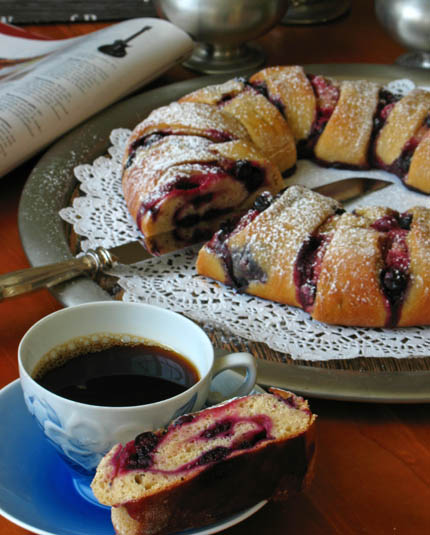 Many people have written in to ask about assembling the Blueberry Lemon Curd Ring from page 228. I already had a bucket of Brioche dough, and some lemons rolling around in my refrigerator, so this ring was simple to throw together.
The brightness of the lemon and berries is perfect folded into the rich Brioche dough. The ring is simple enough to make on any day of the week, but so impressive that you can serve it on special occasions.
To make the ring:
1 1/2 pounds Brioche dough (page 189)
1/2 cup lemon curd (page 228)
1 1/2 cups fresh blueberries (or any other berries)
Egg wash(one egg mixed with one tablespoon water)
Sugar for sprinkling
Preheat oven to 350° and line a 18-Inch-by-13-Inch Jelly Roll Pan
with parchment or a silpat.
Start by pulling off a piece of dough from your bucket and quickly shape into a loose ball, this is just to smooth the surface before rolling it out.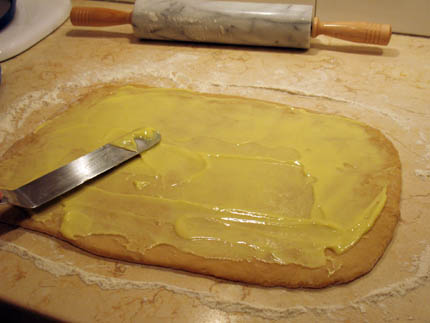 Roll the dough out to about 1/8″ thick. Spread the lemon curd over the surface, making sure to go all the way to the edges.
Sprinkle with blueberries or any other fruit you have on hand. Roll the dough up starting at the long end.
Pinch the seam together.
Stretch the log of dough out gently to elongate it. Fold the two ends in and pinch them together. Lay out to rest on a baking sheet with either parchment or a silpat. Cover loosely with plastic and let rest for about 40 minutes.
Preheat the oven to 375 degrees.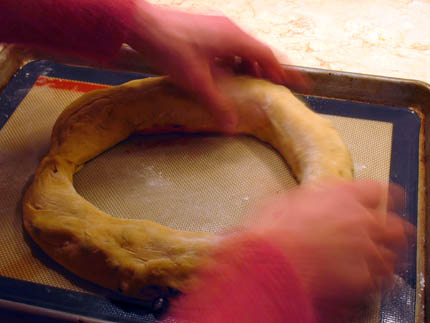 After it has rested, gently stretch it again to form a nice open ring.
Using Kitchen Shears or a knife, cut slits in the dough. The slits should go down about half way to the baking sheet. Lightly brush with egg wash and sprinkle with sugar.
Bake for 35 minutes, or until golden brown.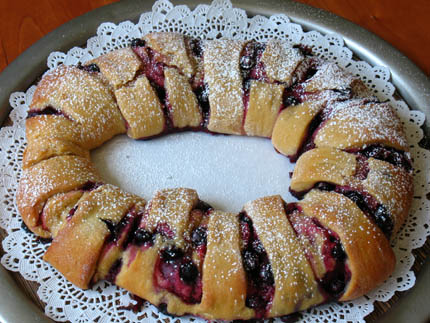 Dust with powdered sugar and serve with a coffee and the morning paper!
Now that it is turning to the heat of summer, we are constantly trying to come up with ways to bake without heating up our houses. You could bake this lovely danish on the grill. Yes, the grill! Just follow these baking directions for sweets on the grill.
Note: BreadIn5.com is reader supported–when you buy through links on the site, BreadIn5 LLC earns commissions.
---
---