Thanksgiving Buns and Helpful Hints for Holiday Baking!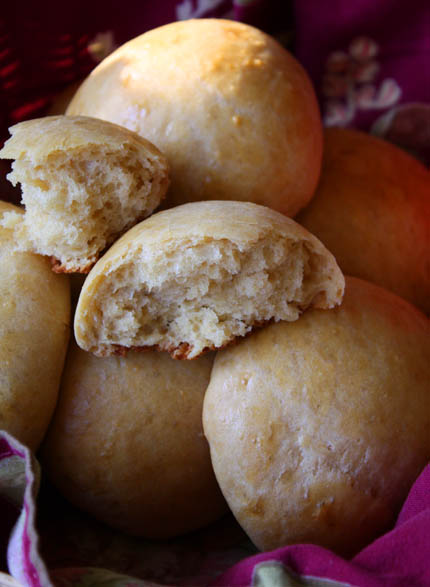 Tomorrow is Thanksgiving and Jeff and I wanted to express our gratitude to all of you! We've loved hearing from you over the past year. Your questions have challenged us to learn more, your stories have inspired us and your encouragement makes this whole project a joy!
We know from your comments and emails that many of you will be baking bread for Thanksgiving. We are so pleased it will be part of your special meal. Just in case you need a little guidance on Thanksgiving day, I wanted to lead you to some good information about our most frequently asked questions:
Dense Crumb or Loaves Not Rising Enough?
How to Improve Whole Grain Loaves?
Using a Different Type of Flour?
Too Salty or Not Salty Enough?
During the past week we've had several questions about making our various doughs into buns. These tiny little loaves are the traditional shape for the holidays and can be easily made from any of our doughs.  Here is how:
Pick any dough you want from Artisan Bread in Five Minutes a Day. Sprinkle flour over the top of the dough and cut off small pieces; kitchen shears are nice for this job.
If you have a kitchen scale you will want each one to weigh about 2 ounces. As you can see I have a small bowl of flour sitting right on my scale. I set the bowl down and then press tare. The bowl of flour allows me to rest the sticky dough down without making a complete mess of my favorite scale.
If you aren't using a scale then the buns should be about the size of a golf ball.
Form the dough into a smooth ball by gently pulling the top of the dough around to the bottom and then tuck the ends under.
The ball should be nice and round, but you should only work it into this shape for about 20-40 seconds. Try to handle it as little as possible.
Set the buns on a cookie sheet that is lined with parchment or a silpat.
Normally we don't cover the dough in plastic as it rests, but it has been so dry in my kitchen this fall that I loosely covered the buns. Let them rest until they no longer feel chilled and have a bit of puffiness to them. Our dough will not double in size while it rests, but it will have nice rise in the oven! This rest can take anywhere from 20 minutes to an hour depending on the dough and how cold your kitchen is.
While your buns are rising, preheat your oven to the temperature that the specific dough suggests.
Some breads will ask for a dusting of flour, a brushing of cornstarch wash or egg wash (use a pastry brush). Do as the recipe suggests. You can certainly slash them as well, but I just left the shape to chance and baked them without slashing.
Bake the buns for about 20 minutes. If you are using the non-enriched doughs you want to go by the same deep brown crust guideline that you would use for the bigger loaves.
Once my buns  came out of the oven I brushed them with butter, this will soften the crust, which is exactly what I wanted.
Happy Thanksgiving!
Zoë and Jeff
---
---