Pumpkin Pie Brioche just in time for Thanksgiving!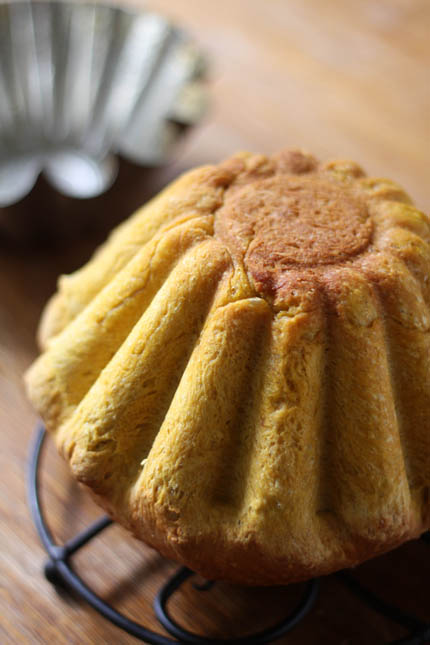 Pumpkins are associated with the quintessential Thanksgiving dessert, a decadent pie filled with spices and sweetness. The pumpkin adds a smooth and luxurious texture that amounts to pure comfort food. Pumpkin is not only wonderful for its flavors but is also chock full of healthy vitamins. This was the inspiration for making a pumpkin pie brioche to include in Healthy Bread in Five Minutes a Day. It can be baked as a loaf, in a brioche pan or even made into our Indian Spiced Doughnuts (page 287) or as the bottom crust for the Pear Tarte Tatin (page 290). It is fabulous as dessert or breakfast.
Pumpkin Pie Brioche:
3 cups white whole wheat, or traditional whole wheat
4 1/2 cups unbleached all-purpose flour
1 1/2 tablespoons granulated yeast
1 tablespoon kosher salt
2 tablespoons Vital Wheat Gluten
**
1 teaspoon ground cinnamon
1/2 teaspoon ground ginger
1/2 teaspoon ground nutmeg
1/4 teaspoon ground allspice
1 1/4 cups lukewarm water
4 large eggs
1/2 cup honey
3/4 cup neutral flavored oil or unsalted butter, melted
1 3/4 cups pumpkin puree (freshly roasted or canned)
Egg wash for brushing on top
Raw sugar for sprinkling on top
These directions are abridged from the book, for more detailed instructions go to page 354 in The New Healthy Bread in Five Minutes a Day
. Note that there was an error in early versions of the book, which called for 2 cups of water– the correct amount was 1 1/4, as above.
Mixing and storing the dough: whisk together all of the dry ingredients in a 5-quart Food Storage Container, fitted with a non-airtight lid. Combine the liquid ingredients and add them to the dry with a wooden spoon. Mix thoroughly, until there are no more dry bits of flour. The dough will be quite loose when you are done.
Cover the container and allow the dough to rest on the counter for 2 hours. Once it has risen refrigerate for at least 2 hours before baking or it is too difficult to handle. It can be stored in the refrigerator for up to 5 days.
On baking day: Grease a six-inch Brioche Mold. Dust the surface of the refrigerated dough with flour and cut off a 1 1/2-pound (cantaloupe size) piece of dough. Dust with more flour and quickly shape into a ball.
Place the ball of dough into the prepared pan with the smooth side up.  Allow the dough to rest, loosely covered with plastic wrap for 1 hour 45 minutes.
Preheat the oven to 350 with the oven rack in the middle of the oven.
As you can see it didn't rise that much during the rest. That is normal for our dough. Brush the top of the dough with egg wash using a pastry brush and sprinkle it with the raw sugar.
Bake for about 50 minutes, until the top is golden brown. Allow to cool in the pan for about 5 minutes then turn it out and
form a thick ring with a clean kitchen towel…
and invert the brioche onto the towel so that the dome of the brioche is supported by the towel. This will prevent the top or bottom of the loaf from getting crushed as it cools. Let the dough come to room temperature before cutting and serving.
Enjoy!
There have been many questions about Vital Wheat Gluten (also known as Vital Wheat Gluten Flour) and where it can be found. We are lucky in Minnesota to have many grocery stores and co-ops that carry it. There are several brands, including some in bulk, but the most readily available is Bob's Red Mill.
Happy Baking! Zoë and Jeff
---
---