The beauty of our 5-minute method of bread baking is that you have enough dough for more than just one loaf. This is true for traditional wheat recipes and many gluten-free breads. So whenever you're in the mood for fresh bread, you just take a piece of dough and create the loaf you want. You may have tried the Master recipe from Gluten-Free Artisan Bread in 5 Minutes a Day and made a classic boule, but want to venture into some other shapes. A gluten free baguette is just as easy and a wonderful, quick loaf to make at any meal.
Gluten Free Baguette
8 ounces Gluten-Free Master Recipe (you can use the recipe from either Gluten-Free Artisan Bread in Five Minutes a Day or Healthy Bread in Five Minutes a Day books.)
If you haven't baked with gluten-free dough before, you'll have to ignore everything you know about baking wheat bread and treat this as if it is scone or biscuit dough. It has no real stretch to it, so you can't just pull it into the baguette shape. You need to take out a piece of dough from your bucket and press it into a long rope.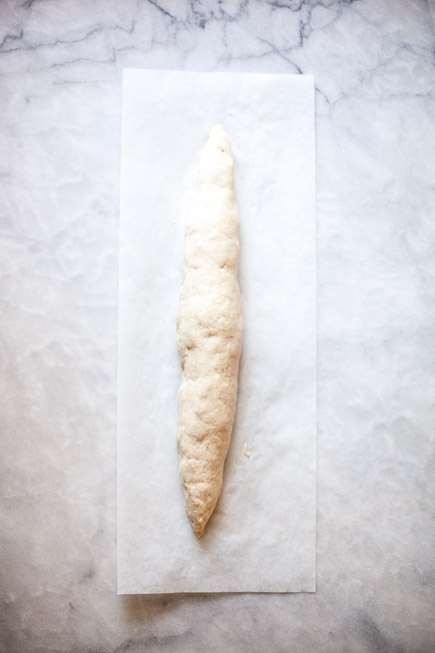 When making a baguette, taper the ends and use some water to smooth the dough into a nice shape. Cover the loaf and let it rest for about 45 to 60 minutes.
Preheat a Baking Stone in the middle of the oven to 450°F (if you find your gluten-free breads tend to come out pale, raise the temperature to 475°F).
Brush the loaf with egg white. Don't use too much, it should be evenly covered, but shouldn't be dripping for with egg.
Use a knife or Lame to slash the dough.
Bake for about 35 minutes or until gluten free baguette is richly brown.
Be sure to let the loaf cool completely or it will seem gummy when you cut into it. This is particularly important for gluten-free breads.
Other Gluten-Free breads to try:
Classic Round GF Boule – video
Note: BreadIn5.com is reader supported. When you buy through links on the site, BreadIn5 LLC earns commissions.
---
---