Summer months means fresh fruit aplenty. I love going to the market and finding rows and rows of peaches, plums, and several varieties of berries as far as the eye can see. I always look for ways to incorporate them into everything: pies, tarts, scones, and our no-knead bread dough. Swirling fresh blueberries in brioche dough (with just a little bit of sugar and cinnamon) was my latest experiment, and the result? Delicious morning buns I'm happy to wake up to.
Blueberry Morning Buns
2 tablespoons butter, melted and cooled
1/2 cup of sugar, plus more for dusting the muffin tin
1 teaspoon cinnamon
Pinch salt
1 1/2 pound piece of Brioche or Challah from New Artisan
1 cup blueberries
Powdered Sugar Icing
1 cup powdered sugar
2-3 tablespoons water
Using a pastry brush, brush the wells of a muffin tin with the melted butter (about 1 tablespoon total). Generously sprinkle the wells with granulated sugar, so they are fully coated.
In a small bowl, mix together 1/2 cup sugar, cinnamon, and pinch salt.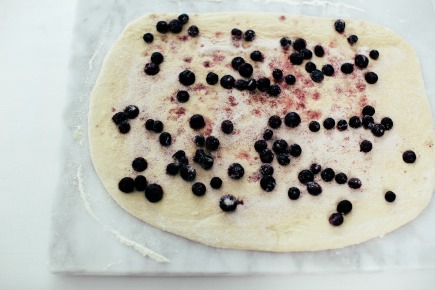 Roll out the dough into a rectangle about 1/8-inch thick. Using the pastry brush, brush the dough with the remaining butter. Sprinkle the sugar mixture over the top, and smooth it in an even layer. Scatter the blueberries over the sugar, and gently press them into the dough.

Roll the dough up, starting at the long end.
Use a Bread Knife, Kitchen Scissors, or floss to cut the log into 12 equal pieces.
Place the cut pieces into the prepared muffin tin. Cover loosely with plastic wrap, and let rise for 1-1/2 hours.
Preheat the oven to 350°F and place the rack in the middle of the oven. Bake for about 25 to 30 minutes, just until the centers are set when poked with your finger.
Let the buns cool in the pan for 2 minutes, then flip them out onto a wire cooling rack. Turn them right side up, and let them cool a few minutes before icing.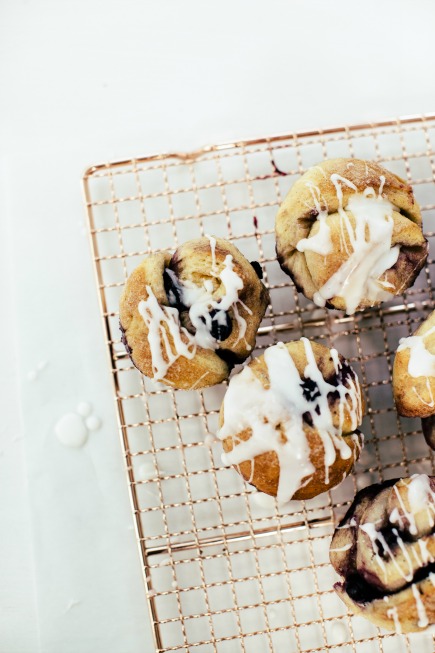 For the icing
Put the powdered sugar into a medium bowl. Add 2 tablespoons water, and mix until combined. If the icing is too thick, add more water, 1 tablespoon at a time, until the desired consistency is reached.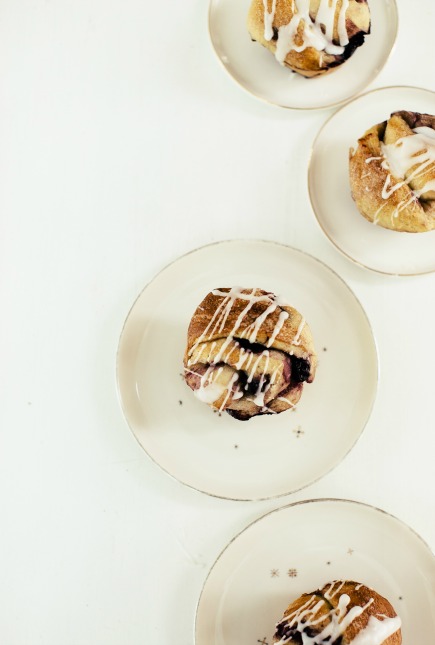 ---
---