Cheesy, Spinach and Egg Boat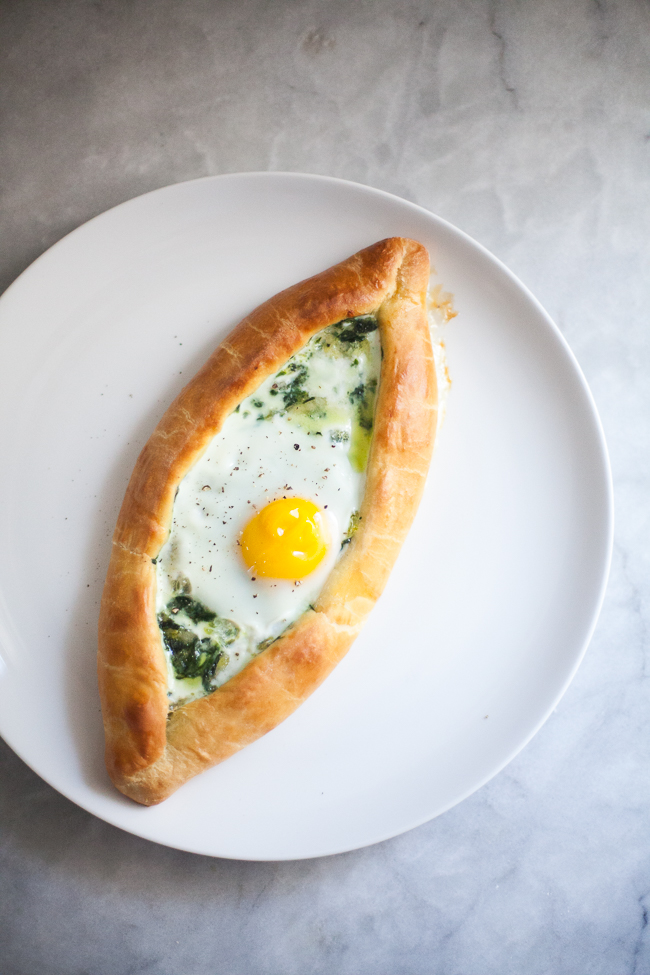 Once in a while I make a decision that seems like a fantastic idea, then it terrifies me and then proves to change my life. Agreeing to write Artisan Bread in Five Minutes a Day
with Jeff in 2005 was one such moment. Recently, I gave my dad a gift that falls into the same category. He has been going into the BWCA (Boundary Waters Canoe Area) on the Minnesota/Canada border for decades. He's gone alone, he's taken my brothers, he's taken my sons, but I have never gone. To say I am not a camper is an understatement. I like memory foam and a thread count on my sheets that you can't buy at REI. So, when I asked him to take me camping in the BWCA, he was thrilled and booked the date before I could change my mind, which I have considered many times. I am so excited, slightly terrified and I've heard many people say this is a trip of a lifetime. I have no doubt I will come back a changed woman.
My dad came over to start planning our big canoeing adventure, so I figured a cheesy, spinach and egg boat was a fitting lunch. This savory flatbread is featured in our The New Healthy Bread in Five Minutes a Day
 book, made with our whole wheat master recipe. Today I made it with brioche dough and it was fantastic. It's a really fun flatbread, that is easier than you think to make and will jazz up a breakfast, lunch or brunch. It may or may not change your life, but it will add joy!
Cheesy, Spinach and Egg Boat adapted from The New Healthy Bread in Five Minutes a Day
12 ounces dough – brioche or master recipes from any of our books. Really any dough you have on hand will do.
2 tablespoon oil or butter
2 garlic clove, minced
8 cups loosely packed chopped spinach
4 tablespoons finely chopped parsley
2 tablespoons finely sliced green onions
4 ounces crumbled feta or grated gruyere cheese
4 large eggs
Salt and pepper to taste
To make the boats:
Preheat oven to 400°F – for Master recipe
Preheat oven to 350°F – for Brioche dough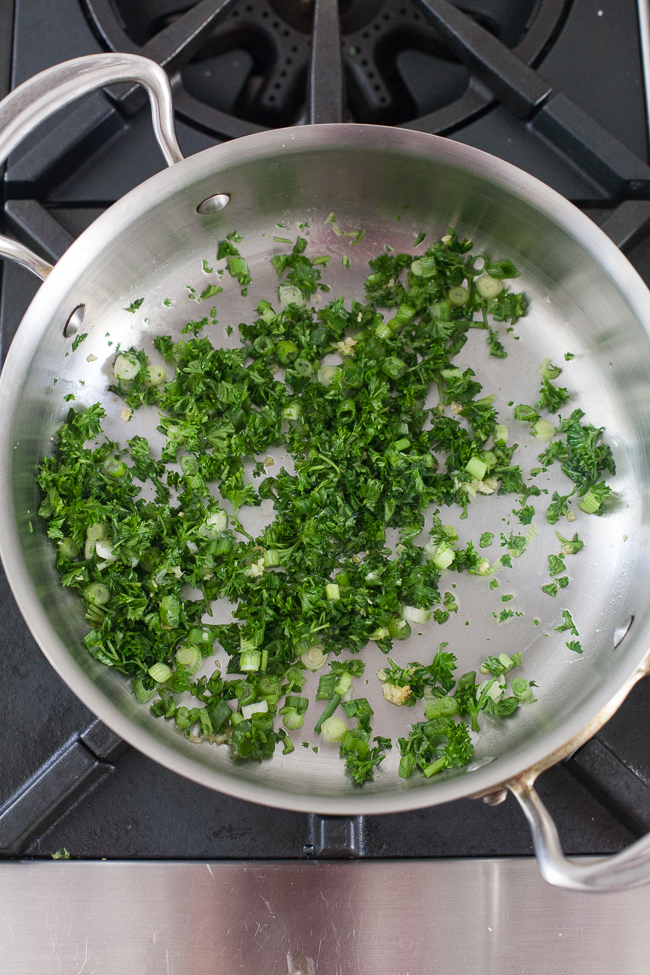 In a skillet, heat the oil or butter. Sauté the garlic, parsley and green onions until wilted.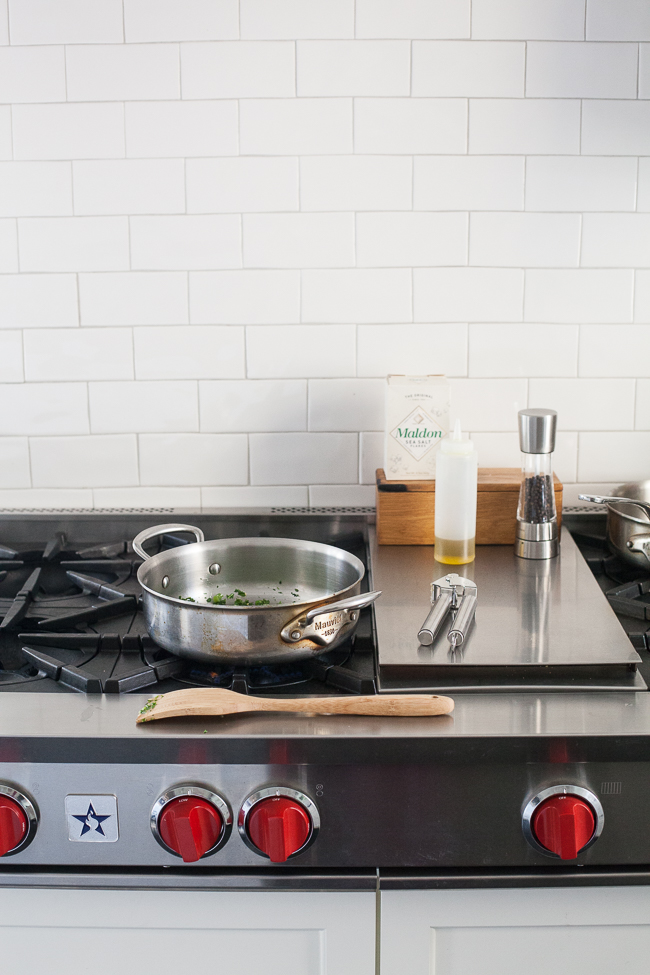 Add the spinach and cook until all of the liquid cooks off.
It will reduce by quite a bit.
Transfer to a bowl and allow the spinach mixture to cool. Add one of the eggs and the cheese to the mixture. Set aside while you roll out the dough.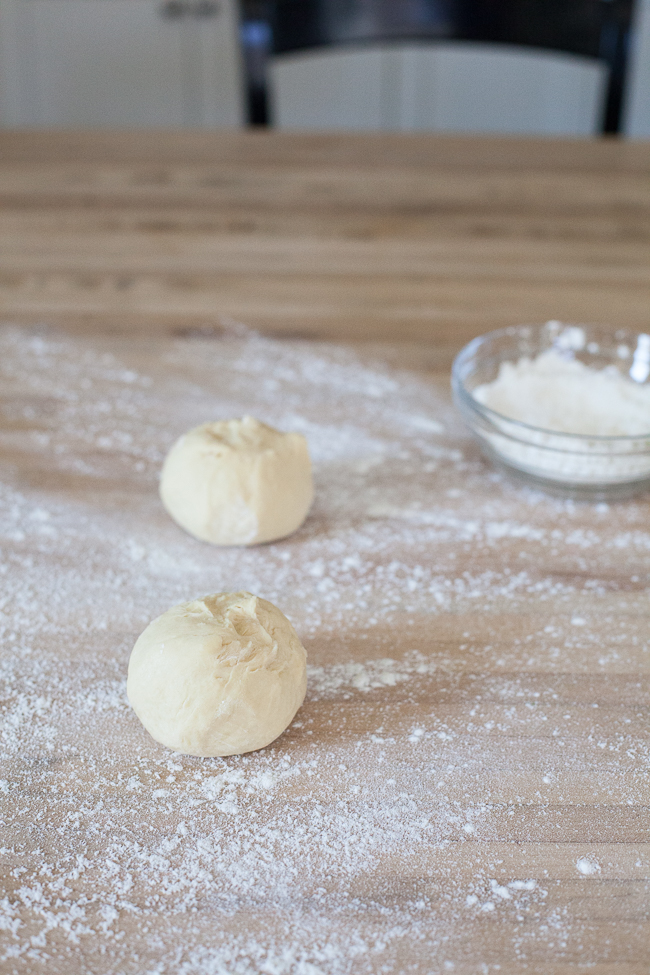 Divide the dough into two 6-ounce pieces.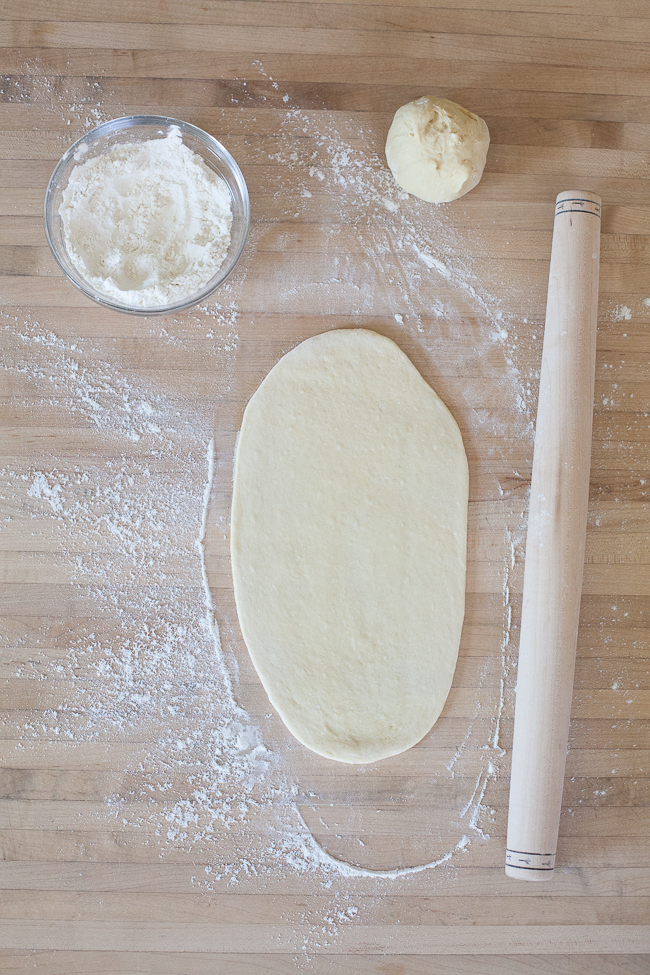 Roll each one into a 1/8-inch-thick oval. (I tend to use a French Rolling Pin
, instead of the American version. People often ask if one is better than the other. It's just a matter of taste and comfort. If you are used to an American Rolling Pin
, it works just as well.)
Transfer the dough to a Baking Sheet
lined with Parchment Paper
.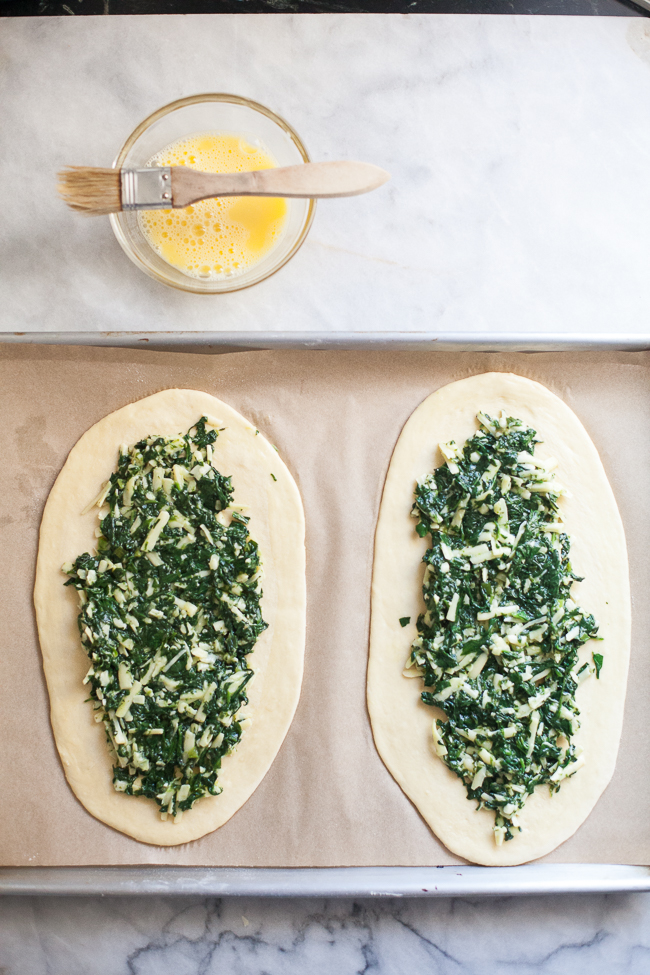 Fill the center with the spinach mixture. Brush
the edges lightly with egg wash (1 egg with 1 teaspoon water).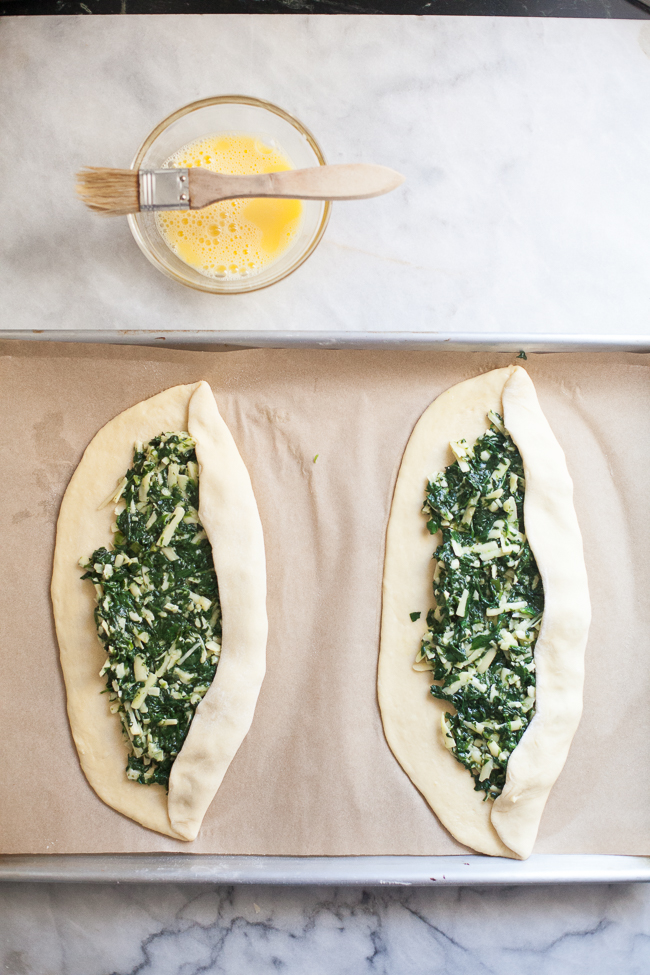 Fold one side up and over the filling.
Fold the other side up and over the filling and the ends should overlap. Press your finger into the ends to make sure they are sealed shut.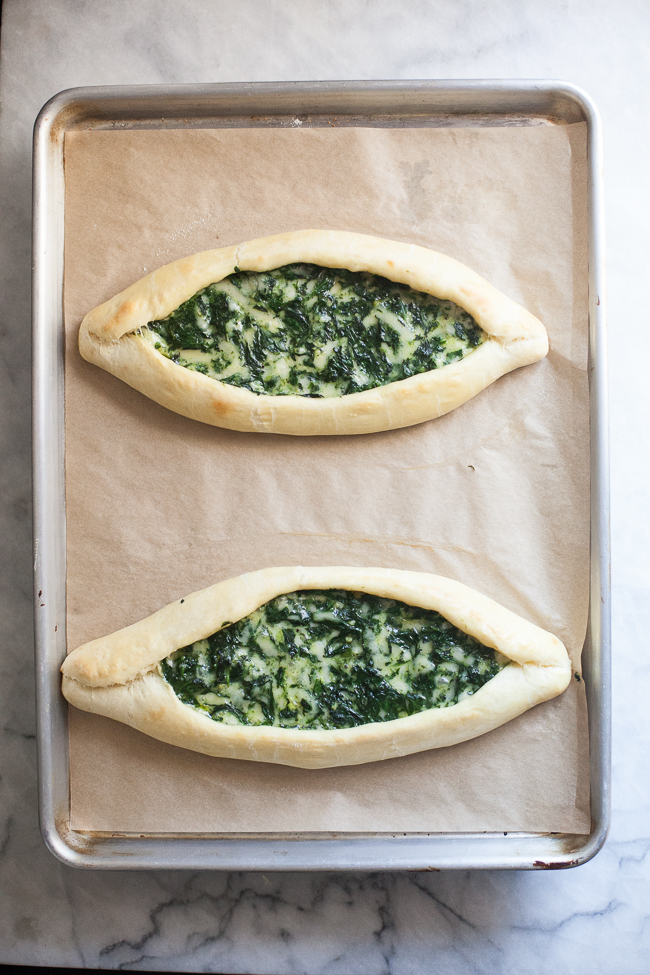 Bake the boats for about 15 minutes or just until the dough is set and just starting to turn golden.
Add an egg to each of the boats and return to the oven to bake.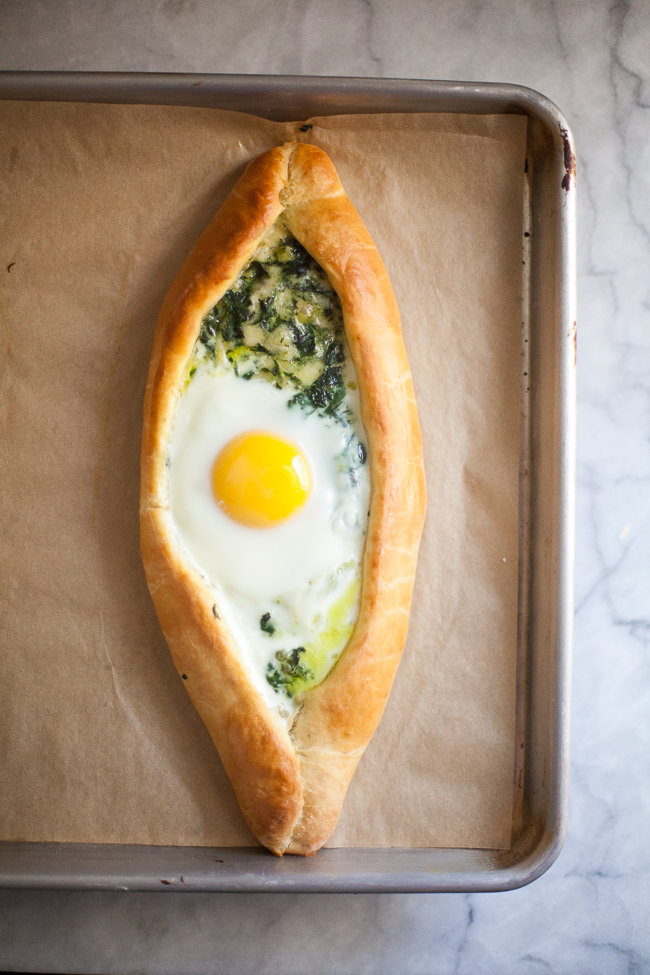 I like my whites set, but the yolk to be runny. You can bake yours to match your taste.
I'm planning to make a version of these while we're camping. I know it is possible, because Jeff takes dough on his camping trips, but in the BWCA we have to consider the bears. Oh my, did I really set this trip in motion, before I considered the bears?
Salt and Pepper
to taste!
Dig in!
Jeff and I have a new project we're working on and WE NEED YOUR HELP. Please send us your ideas and recipes. MORE INFO HERE!
---
---