Upside Down Plum Brioche Cake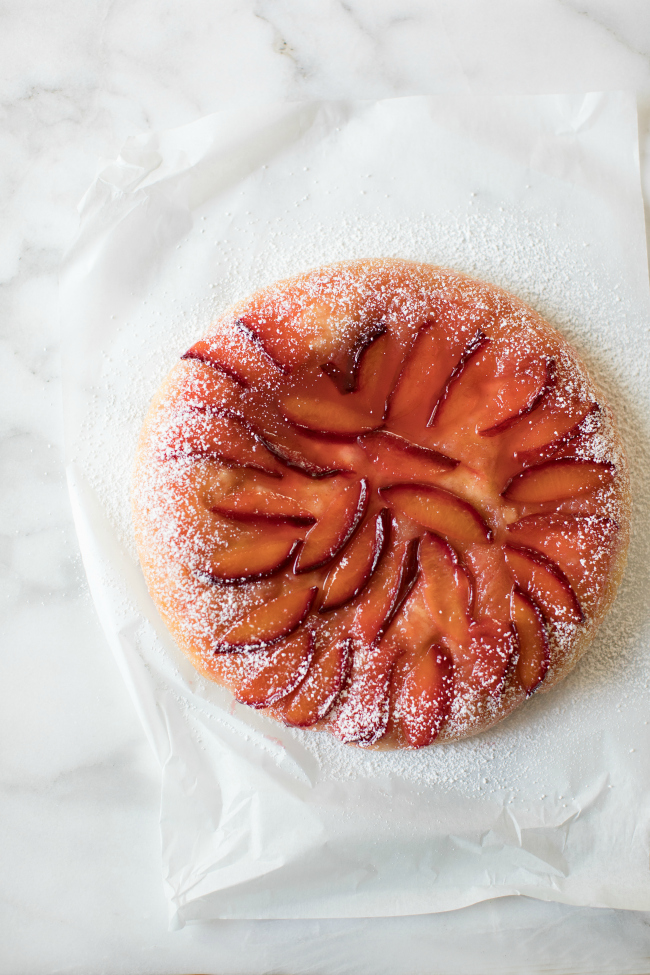 August is slowly slipping away from us, and here in Minnesota it's brought endless days of cool weather and rain. Baking has been an essential part of my day, as I process changes: new routines about to begin, weather moving from hot to cold, and daily current events that fill my computer screen.
Stone fruits are still front and center at my grocery store; they've replaced the piles of berries that filled my fridge all through July. While we've mostly been eating them perfectly ripe and sliced, I did sneak in an up-side down brioche this week that was incredibly delicious. Made with plums, some butter and sugar, and a splash of vanilla, this brioche cake is a perfect way to celebrate the end of summer.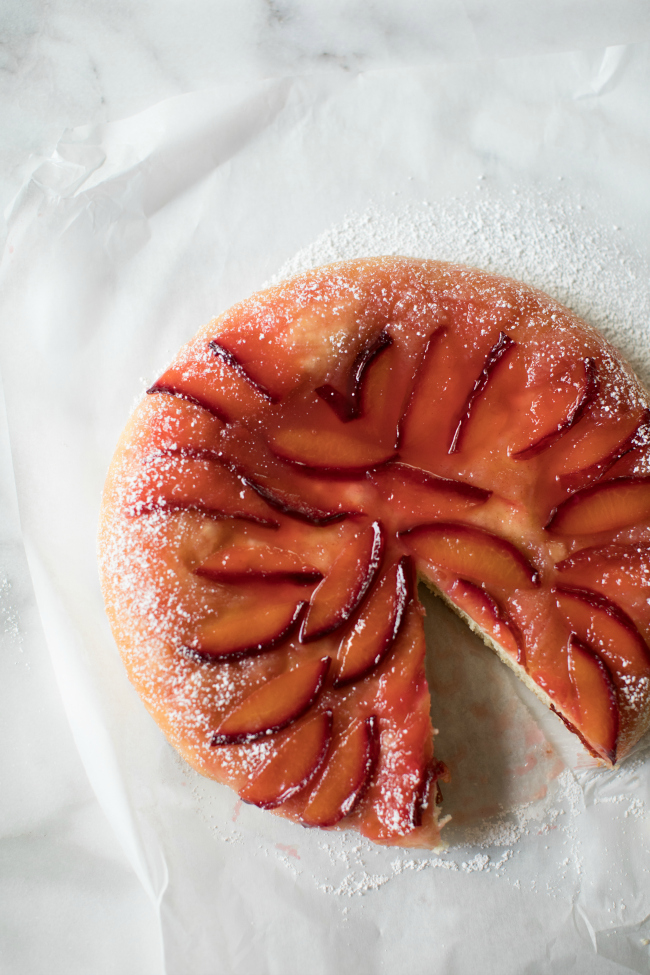 Upside-Down Plum Brioche Cake
1 pound brioche dough (page 300 of The New Artisan Bread in Five Minutes a Day) or whole wheat brioche dough
5 tablespoons butter
1/3 cup granulated sugar
Pinch salt
1 teaspoon pure vanilla extract
1 tablespoon peach schnapps (optional)
(about) 3-4 plums, cut into thin pieces
Preheat your oven to 375F.
Flatten the dough with your hands or a rolling pin, and roll out the brioche into a 9-10 inch circle (you want it to snuggly fit the pan you are using).
Melt the butter, sugar, and salt together in a 9-10 inch cast iron pan. Turn off the heat, add the vanilla and schnapps (if using), and stir to combine.
Carefully layer the plums over the melted sugar mixture.
Very carefully (the pan is hot!) place the circle of brioche over the top of the plums. Make sure the dough is touching the sides of the pan. Place in the oven and cook for 25-35 minutes, until the brioche is golden brown.
Move the pan to a wire rack, and let the cake sit for 10 minutes. After ten minutes, carefully flip the cake onto a serving platter. Dust the edges with powdered sugar if desired.
Let the cake cool slightly, and then serve. This cake is best eaten the day it is made.
---
---