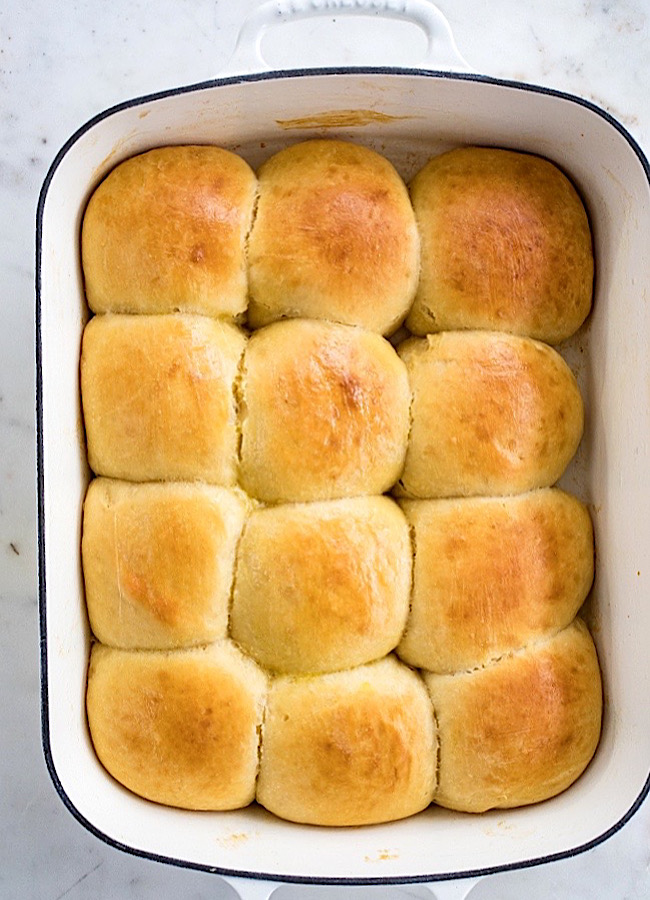 Hawaiian Buns are a delicious treat: they are soft, and sweet, and perfect for both snacking on or serving with a warm meal. The most famous are, of course, the orange package of King's Hawaiian buns found in your local supermarket. While the supermarket brand doesn't contain pineapple or honey, those two ingredients were often used by Portuguese immigrants in Hawaii in the early 1900's when refined sugar was scarce or too expensive to purchase. Our no-knead brioche and challah doughs already contained honey, so with just a little tweaking (and some pineapple juice and vanilla), we found ourselves with a great version of these famous buns, just in time for Thanksgiving dinner.
We have more Thanksgiving bun recipes on our site (Herb Crock Pot Dinner Rolls! Soft Pull Apart Buns!) and you can find links to them here. We also have a Thanksgiving round up post, complete with many of our sweet breads, plus a homemade-bread stuffing recipe, that you can check out here.
Hawaiian Buns
Fresh pineapple juice will not work here; the enzymes in fresh destroy the yeast. Some people heat the fresh juice with good results (this will kill the enzymes), but I've found canned to be the easiest (and cheapest) method. The pineapple juice can inhibit the yeast, so we use extra here to insure a good rise, and soft, tender buns. Having your eggs at room temperature will also help the dough rise quicker. The juice can also cause the melted butter to curdle when mixed, so I keep them separate until everything is mixed together. You can shape the buns the night before serving and let them do a slow rise overnight in the refrigerator.
1 cup [240 g] lukewarm water (100F or below)
1/2 cup [120 g] canned pineapple juice (fresh will not work here, see note above), room temperature
2 tablespoons yeast
1/4 cup [50 g] granulated sugar
1 cup [2 sticks | 226 g] unsalted butter, melted
1/2 cup [170 g] honey
1 tablespoon pure vanilla extract
5 eggs, room temperature, lightly beaten
1 tablespoon kosher salt
7 cups [990 g] all-purpose flour
In a liquid measuring cup, mix together the water, canned pineapple juice, yeast, and sugar.
Mix the butter, honey, eggs, vanilla, and salt together in a 6-quart bowl or lidded (not airtight) food container.
Pour in the flour and begin to mix, slowly adding the water/pineapple mixture. Use a Danish dough whisk to combine all the ingredients together (this can also be done in a heavy-duty stand mixer fitted with a paddle). The dough will be loose but will firm up when chilled; don't try to work with it before chilling.
Cover (not airtight), allow to rest at room temperature for 2 hours, and then refrigerate.
The dough can be used as soon as it's thoroughly chilled, at least 3 hours. Refrigerate the container and use over the next 3 days.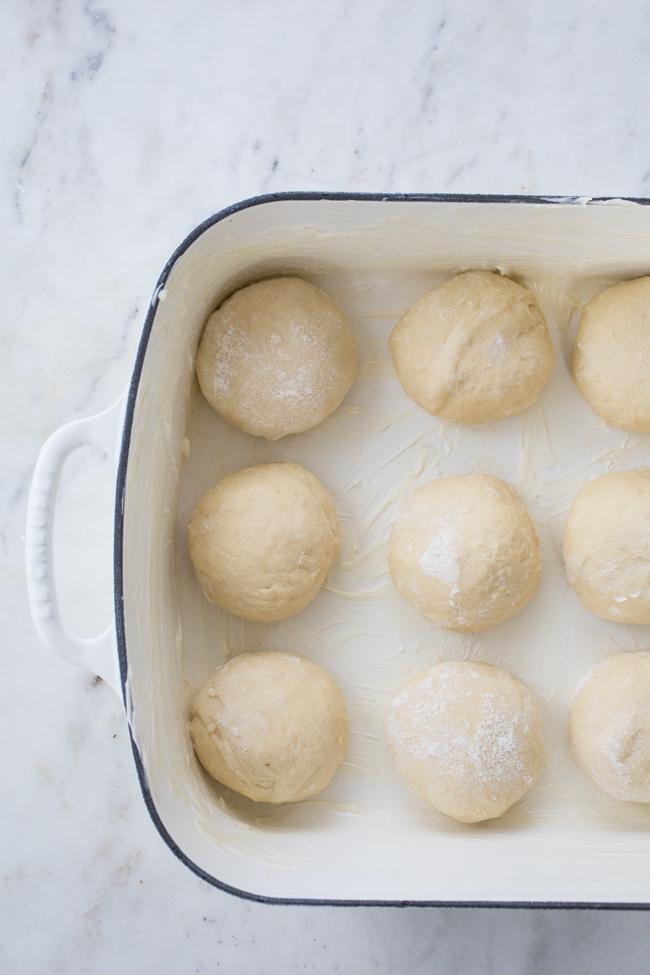 On baking day, cut off 1-pound (grapefruit-size) piece of dough and divide the dough into 8 pieces. Quickly shape the pieces into balls. Place the balls in a greased 8 x 8-inch baking dish, or an 8-inch cake pan. If you want more than 8 buns, as shown in the photos, double the quantity of dough used, or pull cut 2.5 ounce pieces to make the amount needed. If you want pull-apart buns, nestle the buns close together. Cover and allow to rest for 1 hour. Brush the tops with egg white (this will give them some shine).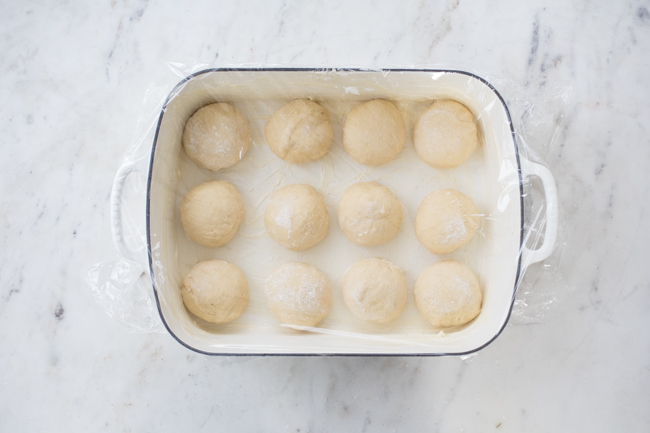 Bake the buns at 350F for 16 minutes. Brush the tops of the buns with melted butter, then bake for 5 to 8 more minutes, until the tops are golden brown. Remove the pan from the oven, and brush the tops with more melted butter.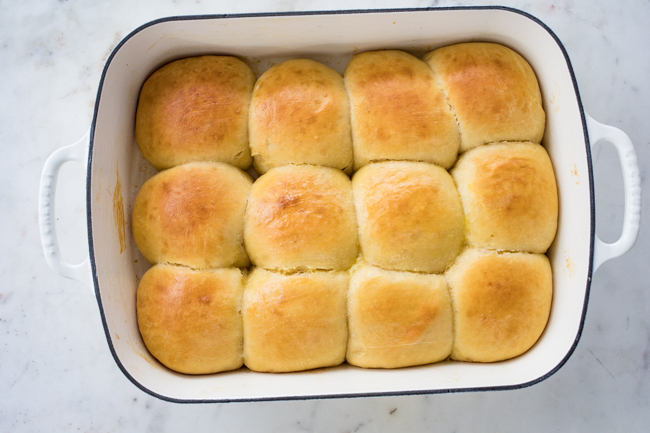 Serve slightly warm and enjoy! These buns can also be made in a Crock pot, follow our direction for Crock Pot Buns here.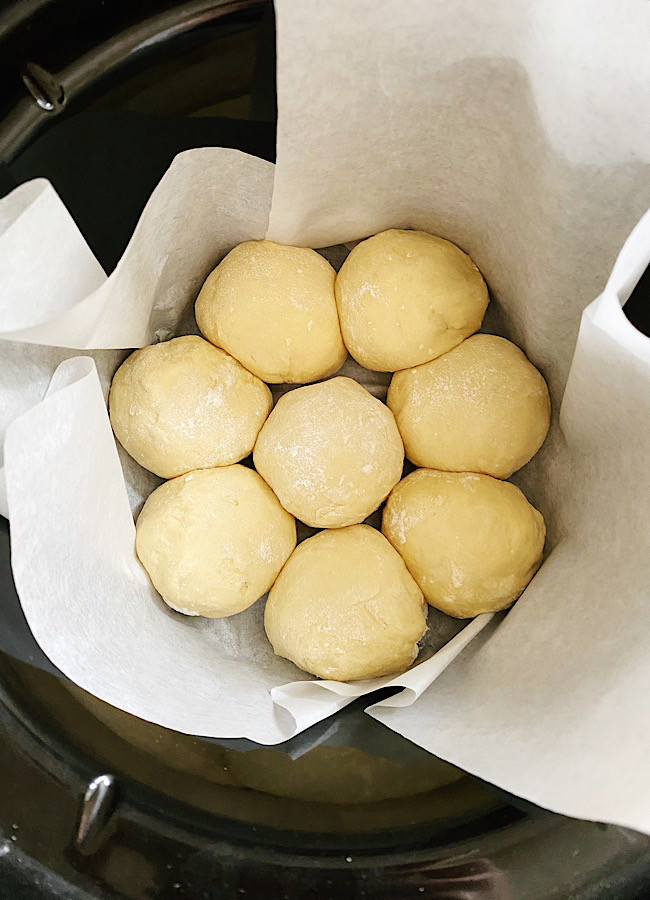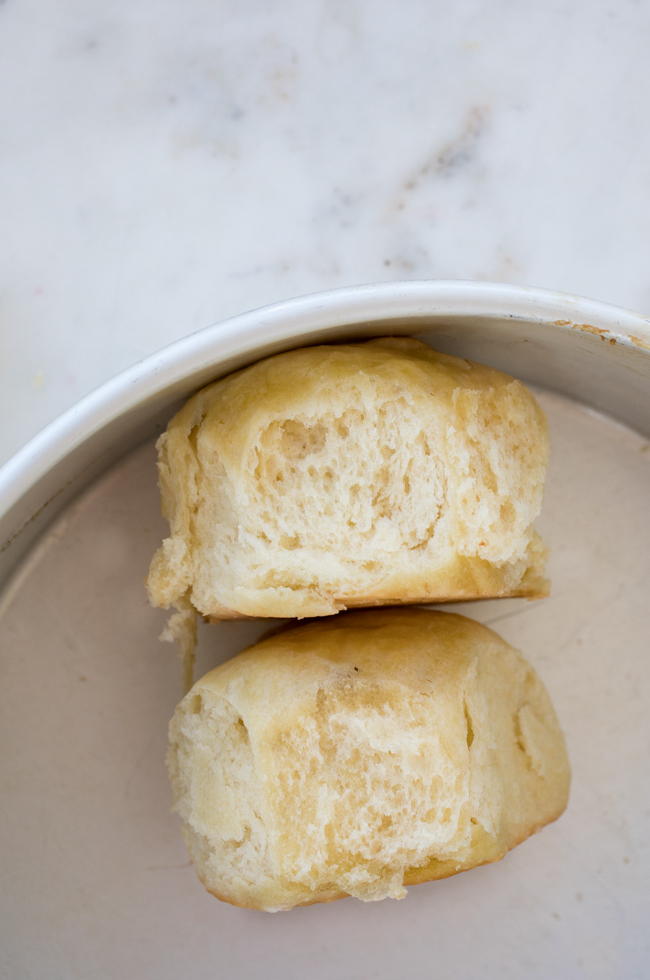 Note: BreadIn5.com is reader supported–when you buy through links on the site, BreadIn5 LLC earns commissions.