Cinnamon Brioche Wreath and a book giveaway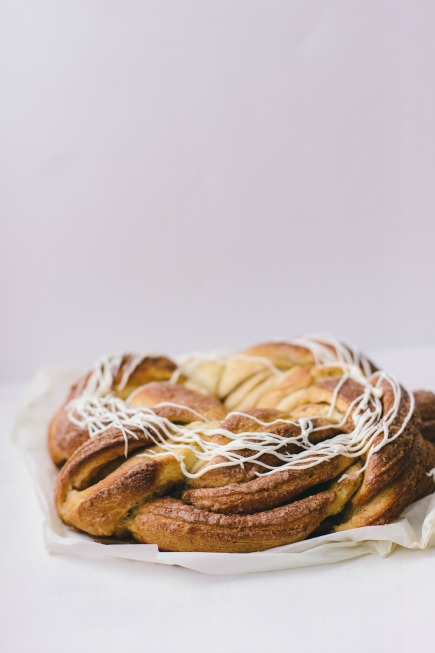 I've written before about being enamored with braided breads, and after making twisted loaves I thought it was time to add a cinnamon brioche wreath into the mix. Seeing braided wreaths of bread all over Pinterest makes me immediately think of the Holidays, that holly jolly time of year when everyone turns a blind eye at eating too many delicious sweets. I have a special breakfast for Thanksgiving and my family always makes these cinnamon rolls for New Years Day, but Christmas Eve needed something special. This wreath is the perfect treat. It looks harder than it is: just a few simple twists sprinkled with sugar and cinnamon make for a beautiful presentation. Click continue viewing below for more. But also: anyone posting a comment to this post will automatically be entered into a drawing–we're giving away a copy of our any one of our U.S. books to five lucky winners (either The New Artisan Bread in 5, Healthy Bread in 5, Artisan Pizza and Flatbread in 5, or Gluten-Free Artisan Bread in 5). Contest closes and winners will be selected on December 19. Usual rules apply, (will only ship to a U.S. address, only one entry allowed, and must respond within 24 hours if you're a winner). Contest is closed; winners have been chosen and notified in e-mail as of 12/19/14.
Cinnamon Brioche Wreath
1 1/2 pounds brioche dough from The New Artisan Bread in Five Minutes a Day (dough recipe; you can also do this with Challah dough)
2 tablespoons unsalted butter, melted
1/2 cup sugar
2 teaspoons cinnamon
1/2 teaspoon cardamom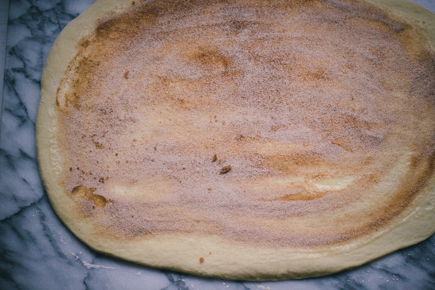 Line a baking sheet with parchment. Roll out the dough into a 1/4-inch-thick rectangle. Brush with melted butter, and sprinkle with the cinnamon and sugar mixture.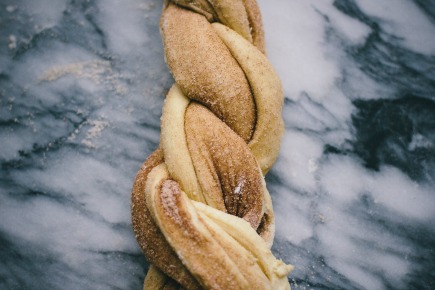 Starting with the long end of the dough, roll the dough into a log. Gently cut the roll in half lengthwise, so the layers of dough and filling are visible. With the cut sides facing up, gently press together one end of each half, and then lift the right half over the left half, and continue until you have braided the entire roll. Press the ends together.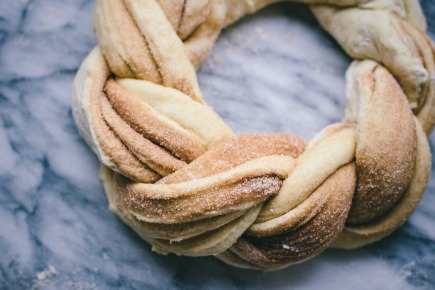 Form the log into a circle, and gently press the ends together. Place the wreath on the prepared baking sheet, and cover loosely with plastic wrap. Let the wreath rise for about an hour.
Preheat the oven to 350 degrees F. After the wreath has risen for an hour, bake for 35-45 minutes, until the wreath is golden brown and cooked through.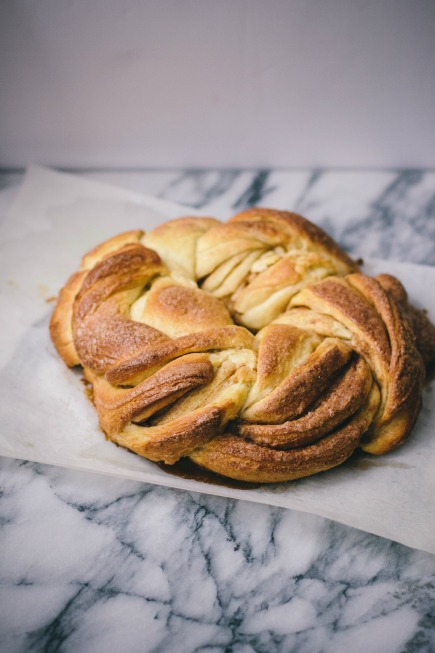 Top with icing if desired (this icing recipe from the cinnamon rolls is delicious).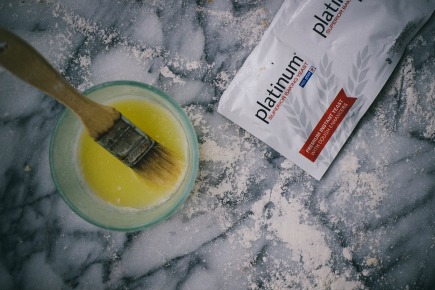 ---
---