Grilled Breakfast Pizza Two Ways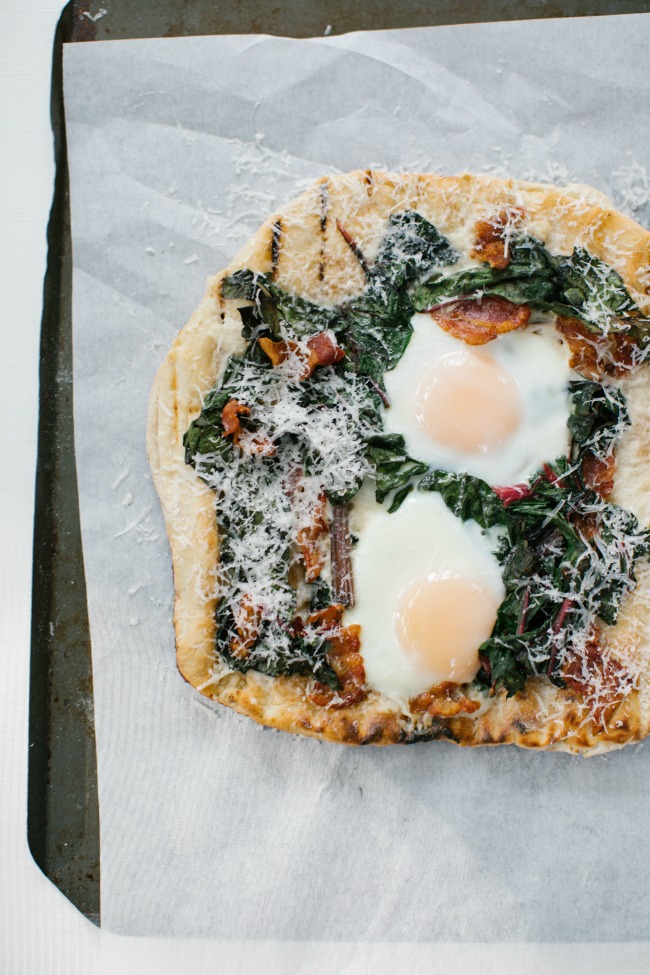 We've had some incredibly warm days here in Minneapolis (scorchers, as we like to call them, as in 'what a scorcher!') so our grill has been in constant use. Grilling during extremely hot weather isn't always the best idea, because, well, that grill is hot, but it does keep the house much cooler. I decided on one of these raging hot mornings that I would start grilling early – friends were coming over for a late breakfast, and maybe we could just do pizzas? With breakfast toppings? Everyone was amused by the idea of breakfast pizza, and now my kids request it daily. We made two different kinds: eggs, bacon, and Swiss chard with a roasted garlic sauce, and peach-sausage-basil with mozzarella. Both were considered hits by all.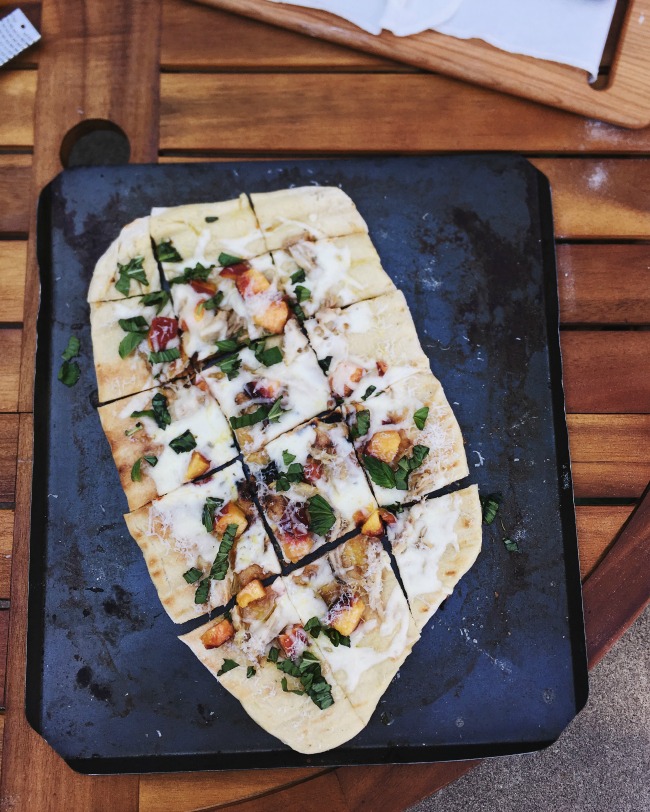 (Need a refresher on grilling pizzas? Check out all our tips and tricks here.)
Grilled Breakfast Pizza
Olive Oil Dough (page 61 in Artisan Pizza and Flatbread) or any other lean dough. (1 pound of dough will make three pizzas – divide dough into 3 even pieces. If you only want to make one pizza, your dough ball should be between 5-6 ounces. Directions below are for one pizza, you will need to increase the toppings if you make more).
For the Egg-Bacon-Swiss Chard Breakfast Pizza
2 slices of thick-style bacon (Cook bacon over medium-low heat until well cooked and just crispy. Drain bacon and chop into bite-sized pieces.)
1 cup Swiss chard leaves (Chop chard into bite-sized pieces and gently sauteed with a teaspoon of olive oil and a good pinch of salt until wilted)
2 eggs
roasted garlic sauce (recipe follows)
Parmesan cheese (finishing cheese; use a microplane grater to grate cheese over pizza after cooked if desired)
Roasted Garlic Sauce
8 garlic cloves, peeled
olive oil
1 cup crème fraîche
Pinch salt and pepper
Preheat the oven to 400F.
Place the garlic on a medium sheet of aluminum foil and drizzle with olive oil. Enclose the garlic in the foil and bake for 30-40 minutes, until the garlic is soft. Let cool.
Place the garlic, crème fraîche, salt, and pepper in the bowl of a food processor and process until completely combined. Refrigerate until ready to use.
For the Peach-Sausage-Basil Breakfast Pizza
1 peach, chopped into small pieces
2 breakfast sausage links (I used Apple-Chardonnay), chopped into bite-sized pieces3/4 cup low moisture mozzarella, shredded
1/4 cup basil, chopped (sprinkle on after the pizza has cooked)
Olive oil (brush charred pizza with a thin layer of olive oil before layering with toppings)
To Grill the Pizzas
Roll dough into a 9-10 inch circle, 1/8-inch thick. Place on a baking sheet, lightly flour the top of the dough, and cover with plastic wrap until ready to use (if making more pizzas, you can stack them on top of each other, making sure each round is covered in plastic).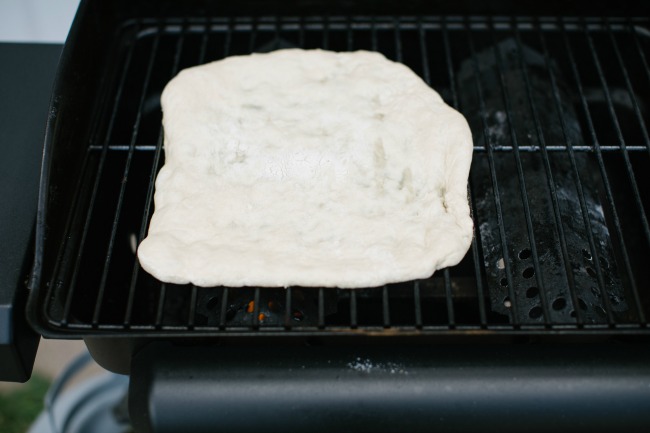 Heat your gas grill: Clean your grill grates. Turn all burners to medium-high and let heat up for 5 minutes. After they have heated, turn one side down to low. Using a floured pizza peel, place the pizza over the hot side. Let it cook there until the top starts to bubble and the bottom creates a char to your liking. Remove the pizza from the grill and place on a nearby work surface. Making sure the charred-side is up, top your pizza.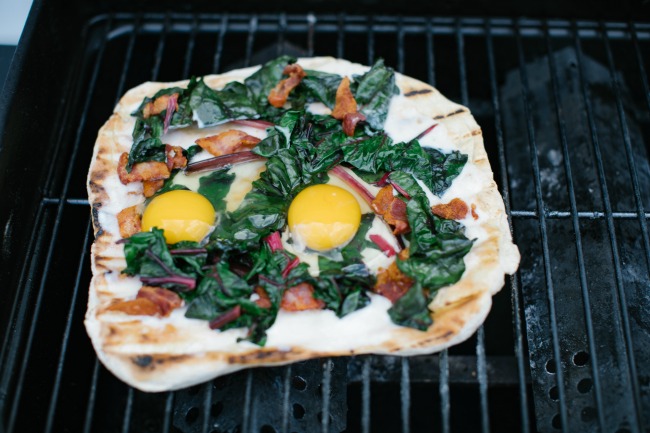 Then, using your pizza peel, bring the pizza back to the grill, and finish cooking. Place over the hot side again, keeping a very careful watch. As soon as your char-marks look great, slide the pizza over to the the cool side and cover the grill. Let cook for 4-10 minutes, until the cheese has melted (if using) and until your eggs have cooked to your liking (if using). Remove the pizza from the grill, top with finishing cheese if desired, and let cool for a minute or two, and serve.
Enjoy!
---
---