Yeasted Blueberry Coffee Cake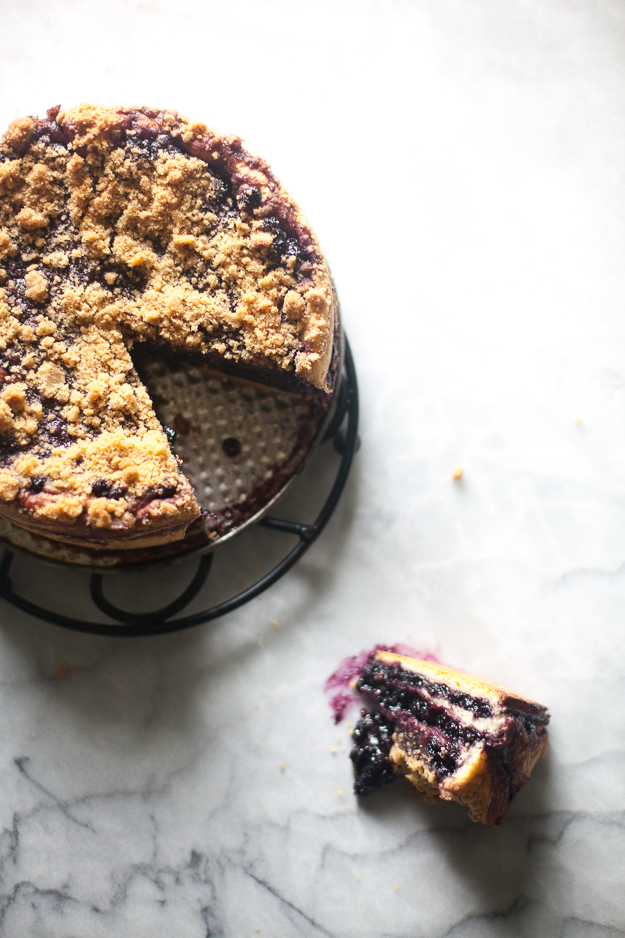 I've been on a jam making kick this week. I read about a really easy recipe in Jennifer Farley's book, The Gourmet Kitchen and had to give it a go. I am now on my third batch, in as many days. Skillet jam is a super simple way to make fruit jam without the pectin and there's no need to figure out the whole canning process, since this jam will disappear in a snap. Honestly, I just eat it out of the jar with a spoon. Today I made just enough blueberry jam to fill this brioche based coffee cake. Depending on the season and where you live, you can use fresh or frozen berries for the jam. I used frozen wild blueberries and they have a lovely tartness. This layered coffee cake is a perfect treat to serve at Brunch or pack for a 4th of July picnic.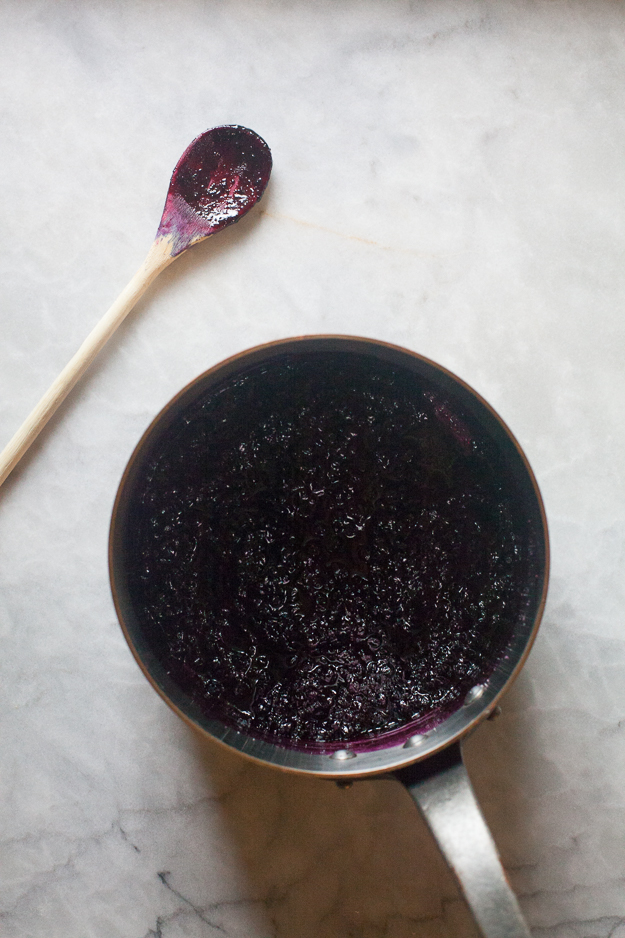 Yeasted Coffee Cake with Blueberry Jam and Streusel Topping
Blueberry Skillet Jam
~inspired by Jennifer Farley's Cherry Jam recipe in The Gourmet Kitchen
5 cups fresh or frozen wild blueberries (6 cups if you aren't using the wild ones, since they are bigger)
1 cup sugar
Juice of 1/2 lemon
Cook the berries, sugar and lemon juice until the fruit juices are thick enough that you can run the spoon across the bottom of the pan and it doesn't immediately fill in. It should be the consistency of honey.
Layered Coffee Cake
12 ounces Brioche Dough from The New Artisan Bread in Five Minutes a Day
(1 pound if you are using a 9-inch springform), you could also use one of our gluten-free recipes or whole wheat brioche.
Streusel Topping
1/3 cup all-purpose flour
1/3 cup brown sugar
1/4 teaspoon cinnamon
Pinch salt
2 tablespoons unsalted butter, softened
To make the coffee cake:
Make the jam as described above, set aside to cool slightly. It can be made ahead.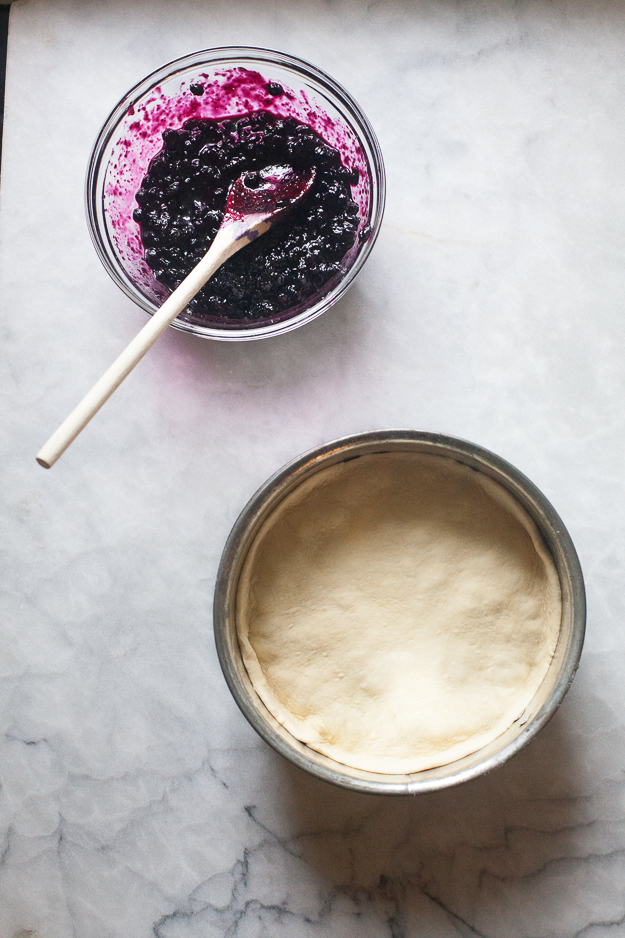 Divide the dough into 3 pieces, shape them into balls and then roll out into disks that will fit comfortably into the Springform Pan
. You can see that it goes up the sides slightly, which will help catch the juices of the jam when it is baking. Using a springform makes it so much easier to unmold the coffee cake after it is baked. I didn't ever grease the pan and it slipped out. If you have a really old pan and things tend to stick, then grease it lightly.
Lay one of the disks into the pan.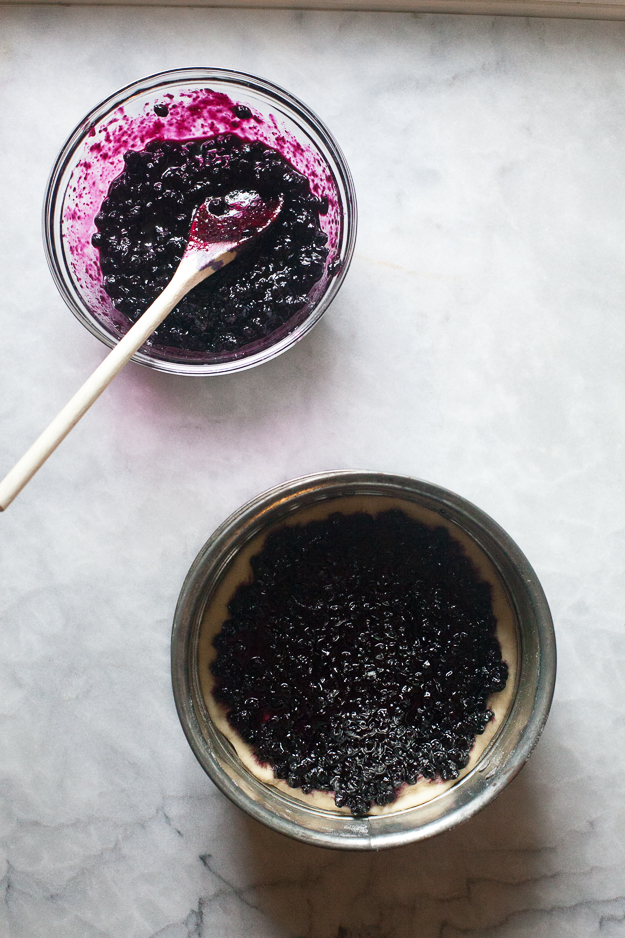 Cover with 1/3 of the jam, spreading out, but not quite to the edges.
Repeat this with the remaining two disks of dough and jam.
Cover the pan and allow to rest for 1 hour.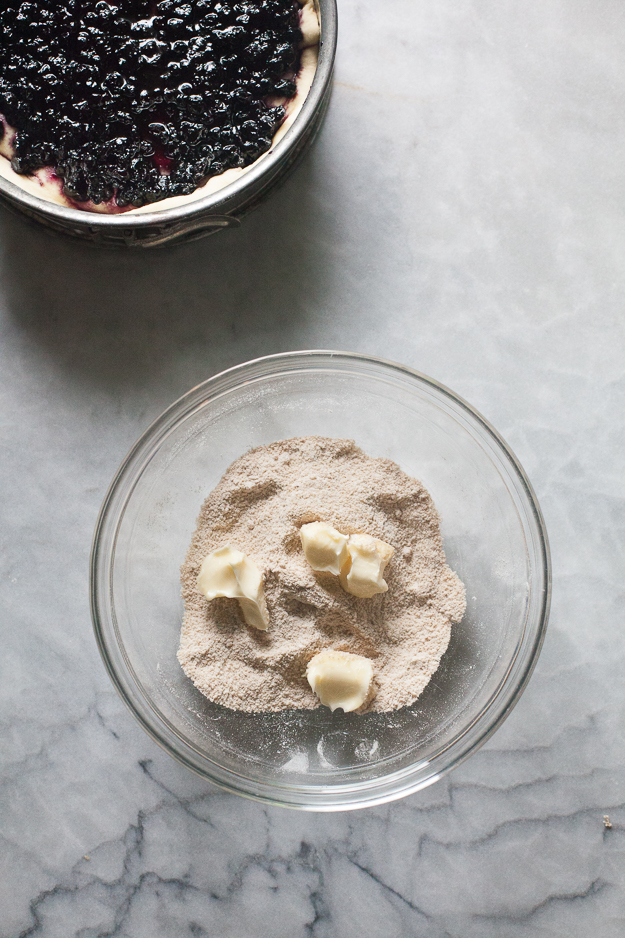 While the coffee cake is resting and rising, prepare the streusel topping.
In a bowl mix together the flour, sugar, cinnamon and salt. Add the soft butter and work it into the sugar mixture with your fingers.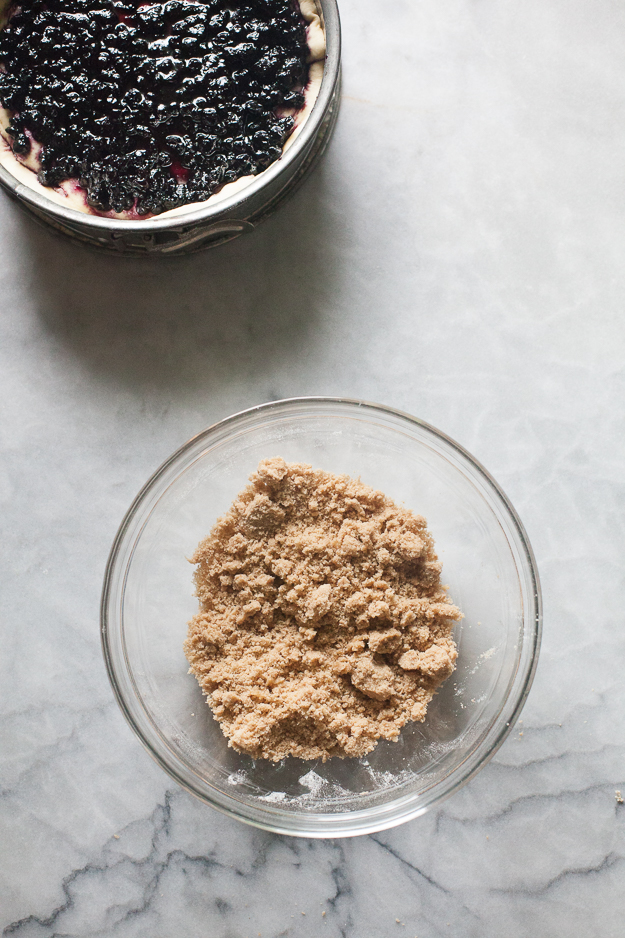 I squeeze the streusel to form some small clumps, which gives the topping some nice texture when it bakes.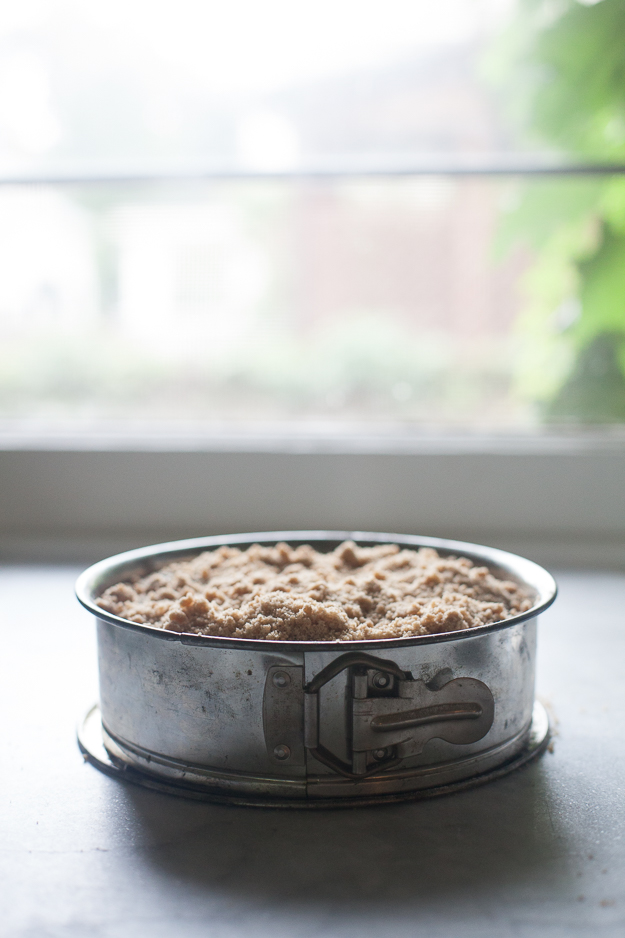 Preheat the oven to 350°F.
Add the streusel to the pan just before baking, otherwise it will get soggy from the jam.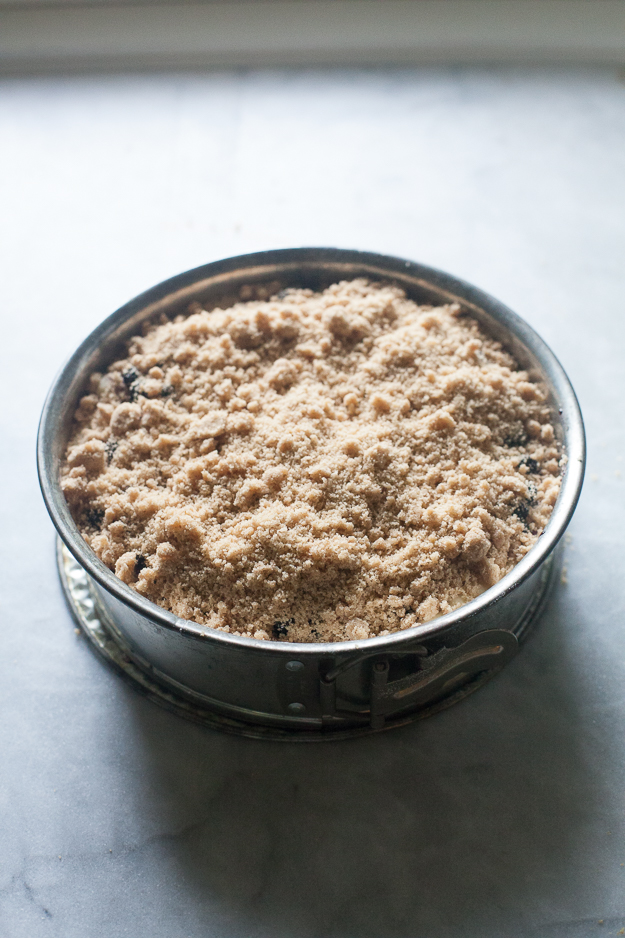 Just scatter it over the top, so it is still in pieces, don't press it down.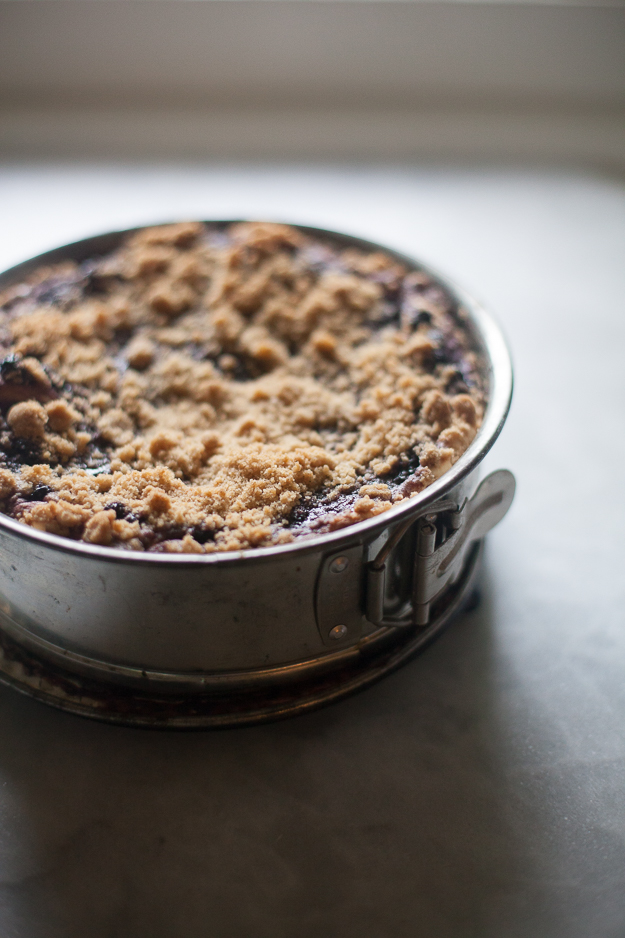 Bake for about 45 minutes. Let it cool in the pan for 10 minutes before removing the sides of the pan.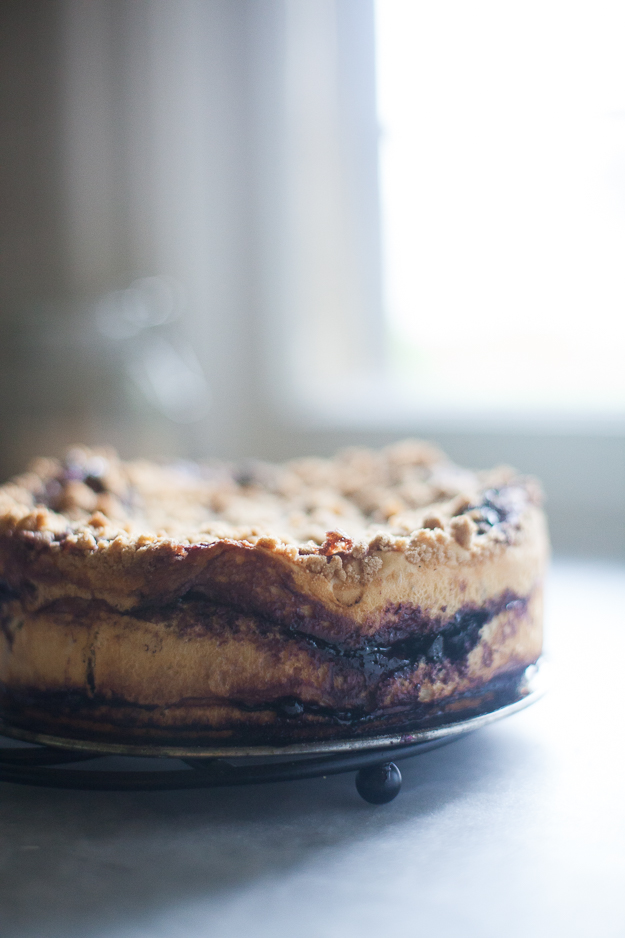 Let cool for 20 minutes before cutting to allow the bread layers to set or cool longer and serve room temperature.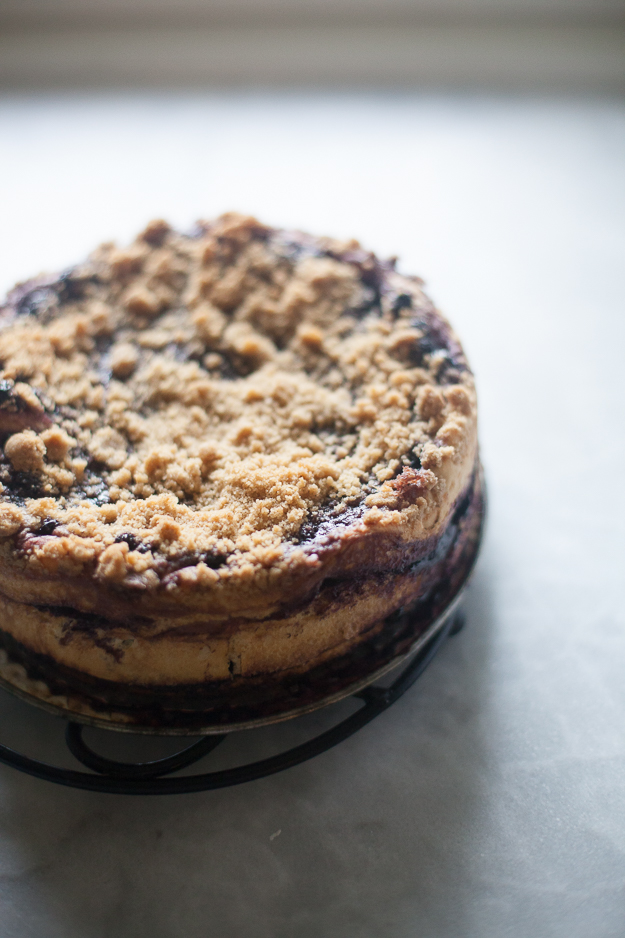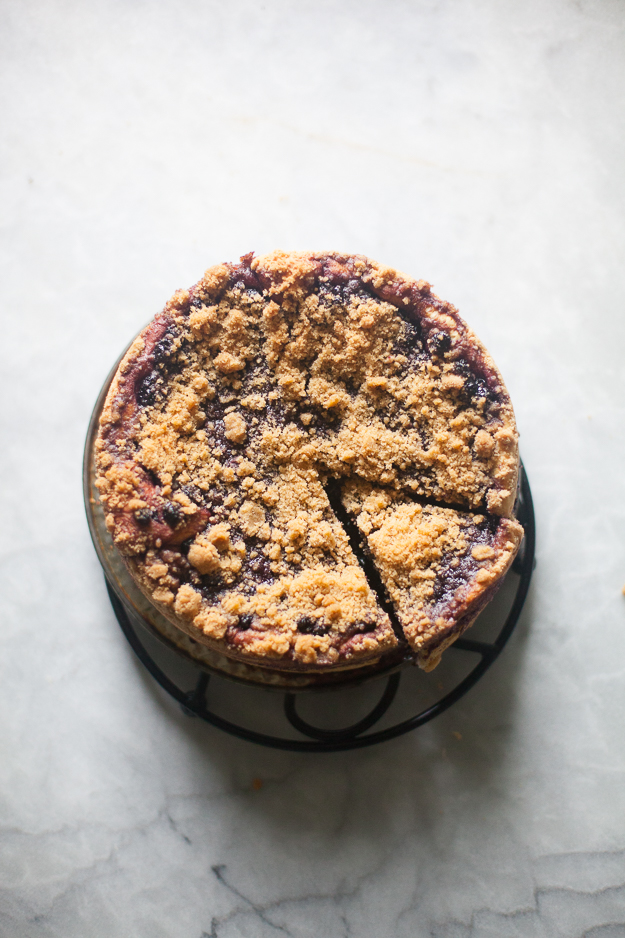 Enjoy and Happy 4th of July!
---
---