Pumpkin Brioche Doughnuts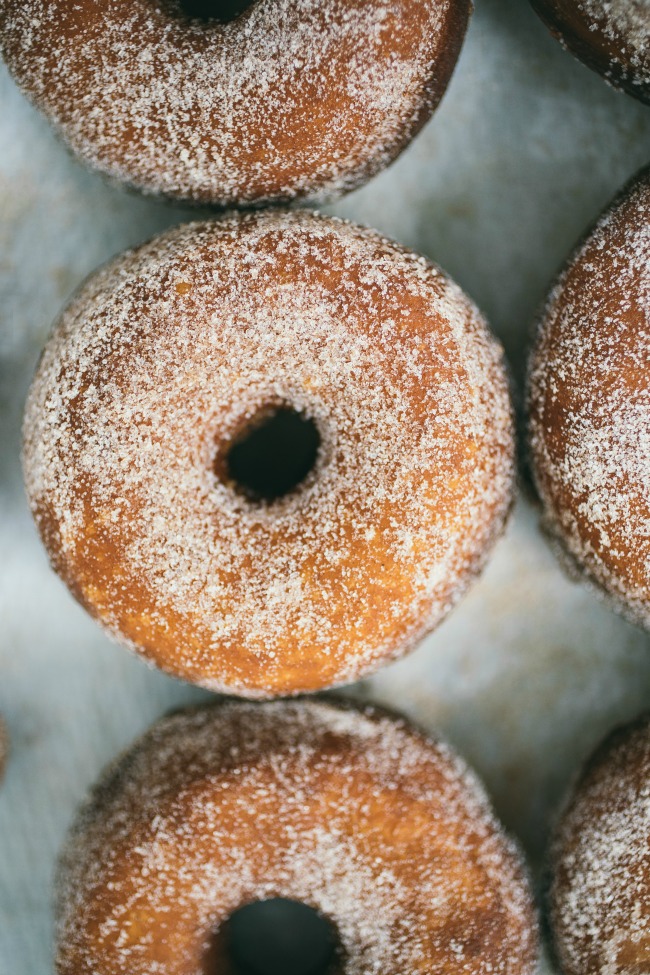 It's that time of year again: pumpkin in everything! I have to admit I don't mind the pumpkin-y goodness showing up all over the interwebs; there is something very comforting (once the cold weather hits) about all the cinnamon spice in the air. We decided to update our pumpkin pie brioche recipe just a little, and as we are big fans of doughnuts over here, pumpkin doughnuts, of course, had to happen. If you are not yet in the mood for pumpkin, you can find our regular brioche doughnuts here. And, if you need a gluten-free treat, we have Apple Cider Gluten Free doughnuts here.
Also! Don't forget you can pre-order our new cookbook, Holiday and Celebration Breads in Five Minutes a Day. You can read all about the book here. The book comes out November 6th, and you can preorder here.
Pumpkin Brioche Dough (There is a whole wheat version of this dough here)
7 1/2 cups (1065g) all-purpose flour
1 tablespoons granulated yeast
1 tablespoon kosher salt
1 teaspoon ground cinnamon
1/2 teaspoon ground ginger
1/2 teaspoon ground nutmeg
1/4 teaspoon ground allspice
1 1/4 cups lukewarm water
4 large eggs
1/2 cup honey
1/2 cup unsalted butter, melted
1 3/4 cups pumpkin puree (freshly roasted or canned)
To fry the doughnuts:
Vegetable Oil – 3 to 4 inches deep, use a pot that is large enough that your oil is not sitting too high in the pot.
Cinnamon sugar (one cup sugar + 2 tablespoons cinnamon)
Mixing and storing the dough: with a Danish Dough Whisk, whisk together all of the dry ingredients in a 5-quart Food Storage Container, fitted with a non-airtight lid. Combine the liquid ingredients and add them to the dry with a wooden spoon. Mix thoroughly, until there are no more dry bits of flour. The dough will be quite loose when you are done. (You can also use a 5-Quart Stand Mixer (with paddle) to mix the dough.)
Cover the container and allow the dough to rest on the counter for 2 hours. Once it has risen refrigerate for at least 4 hours before baking or it is too difficult to handle. It can be stored in the refrigerator for up to 5 days.
On Baking Day (if you need to see a visual, you can check out our other post on doughnuts here, with more pictures on shaping and frying):
Pull out a 1-pound piece of dough and roll it out to a 1/2-inch thick. Use a Doughnut Cutter or round cookie or biscuit cutters. Use a small cutter to use up all of the scraps. Allow the dough to sit for at least 20 minutes (and up to one hour) while the oil heats up.
Once your oil reads 360-370°F on a Candy Thermometer you are ready to fry. Use a slotted spoon or Basket Strainer to flip the doughnuts over after about 2 minutes and then to take them out of the oil once they are golden brown on both sides. Lay them out on paper towel to allow some of the oil to drain off. Whisk together the cinnamon sugar in a large bowl and dip the doughnuts in it. Eat them slightly warm.
---
---